Panel
Livestream
How Much Does your Business Depend on Nature? Getting Ready for Nature-Related Financial Disclosures
The Taskforce on Nature-Related Financial Disclosures (TNFD) will launch on September 18th in the US and at this Building Bridges plenary in Europe. The launch has the potential to shift finance to better align with the nature on which it relies. The vital importance of nature and biodiversity in achieving climate goals means regulatory frameworks worldwide are evolving swiftly to integrate them into practices. Investor interest in biodiversity has been steadily gaining momentum, driven by the recognition that the need to address biodiversity is closely tied to achieving the net-zero carbon goals. Further, investors are becoming aware that degradation and loss of nature can have far reaching consequences, including disruptions to supply chains, increased business risks, and reputational damage.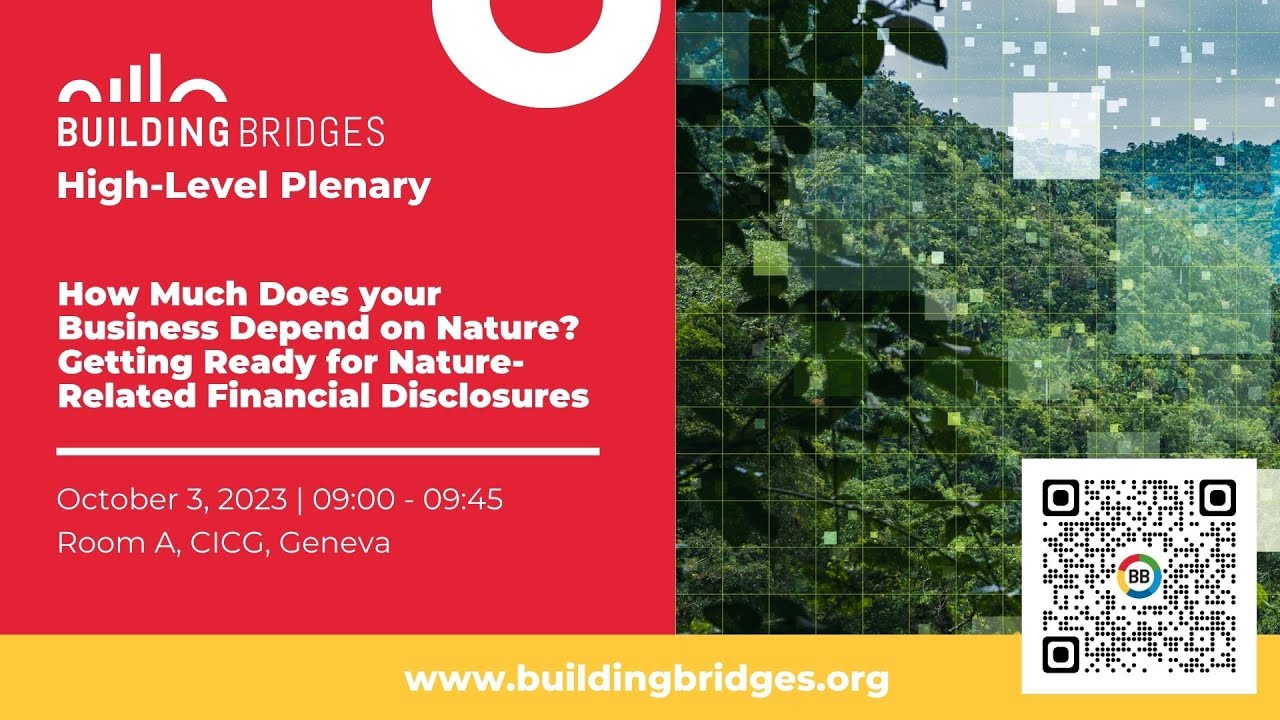 Speakers:

Michael Baldinger
Chief Sustainability Officer - UBS
Michael Baldinger is the Chief Sustainability Officer at UBS. He is responsible for the implementation of the Group Executive Board-sponsored sustainability and impact strategy and provides oversight for sustainability-related projects and activities across UBS. Mr. Baldinger also represents UBS Group as a Board Member of Swiss Sustainable Finance and is President of the Swiss Banking Association's Expert Commission, Sustainable Finance. He joined UBS in November 2016 as Head of Sustainable and Impact Investing at Asset Management (UBS AM) with the mandate to establish UBS AM as a leader in sustainable and impact investing. During this time, Mr Baldinger established an industry leading Sustainable Investing (SI) platform, hired a dedicated SI Specialist team and elevated SI as a critical business driver for the Asset Management division. Before joining UBS, Mr. Baldinger was the CEO of RobecoSAM. In addition, he was responsible for driving the RobecoGroup sustainable investing agenda. He was appointed CEO of RobecoSAMin 2011 having joined as Head of Global Clients & Marketing in 2009. Mr. Baldinger joined RobecoSAMfrom Credit Suisse Asset Management where, as a Managing Director, he was Head of Distribution for the Americas in New York. Prior to Credit Suisse, he was a Managing Director Principal with Bear, Stearns & Co. in New York, responsible for Institutional Equity Sales for Swiss clients from 1999-2005.

Emily McKenzie
Technical Director - TNFD
Emily McKenzie is the Technical Director at the Taskforce on Nature-related Financial Disclosures (TNFD) since 2021. She has worked for 20 years integrating nature in policy, finance, economics and decision-making. More recently, she led the analytical team that produced the independent and global Dasgupta Review on the Economics of Biodiversity, based at HM Treasury in the UK. Previously, Ms. McKenzie was seconded to the Capitals Coalition Technical Group where she helped to develop the Natural Capital Protocol. She also worked for a decade in the WWF Global Science team, where she helped establish and lead the Natural Capital Project at Stanford University. Ms. McKenzie also contributed to the Environmental Land Management scheme in England – a major national agricultural subsidy reform programme – based at the UK Department of Environment, Food and Rural Affairs. Other previous roles include working with the Joint Nature Conservation Committee and the Pacific Islands Applied Geoscience Commission. Ms. McKenzie holds a Master's degree in Economics from the University of Cambridge and a second Master's degree in International Policy Studies from Stanford University.

Renata Pollini
Head of Nature - Holcim
Since November 2020, Renata Pollini is the Head of Nature at Holcim. In her current role, she is leading the development and deployment of Holcim Nature strategy globally. Prior to this, Ms. Pollini worked 10 years for Syngenta in various global, in-country operational and strategic positions. She led the sustainability function in Brazil. Ms. Pollini was born and raised in Brazil. She holds a Bachelor in Biology from the Federal University of São Carlos, a Master in Sustainable Development from University of Basel and an MBA from the University of St. Gallen.

Alison Bewick
Global Head of Group Risk Management - Nestlé
Since 2015, Alison Bewick has been Head of Group Risk Management at Nestlé. Ms. Bewick has more than 20 years of financial and commercial experience with global corporations in various sectors including consumer goods, pharmaceuticals and media. She has held senior finance roles across the full value chain, from research and development, procurement, production, business development, marketing and sales.

Judson Berkey
Lead, Advocacy, Chief Sustainability Office - UBS
Judson Berkey is a Managing Director in the Chief Sustainability Office at UBS based in Zurich where he has worked since 2003 on global risk, regulatory and compliance topics. He currently focuses on sustainable finance policy and regulation including engagement with policymakers and standard setters. He graduated from Harvard Law School and the University of Virginia and is on the board of ECOFACT. He currently chairs the Institute of International Finance Sustainable Finance Working Group and is a member of the Taskforce for Nature-related Financial Disclosures.
Nora Ernst
Senior Sustainability Risk Manager - Swiss Re
Nora Ernst joined Swiss Re's Sustainability Risk Management Team in 2018, being responsible for the group's global ESG risk management. Within her role, she is focusing on biodiversity and climate related risks in Swiss Re's underwriting and asset management portfolios.

Ms. Ernst is a sustainability expert with 8 years of experience working in the insurance and retail industry. She holds a Masters degree in environmental and climate sciences from ETH Zurich.​

Antonio Hautle moderator

,
Executive Director - UN Global Compact Network Switzerland & Liechtenstein
Antonio Hautle is the Executive Director of the UN Global Compact Network Switzerland & Liechtenstein. Previously, some of Mr Hautle's roles included Director of Fastenopfer and Director of the Administration of the Social Department, State of Lucerne. He has a background in philosophy, business ethics and Catholic theology and holds an MBA from the University of Geneva. Together with Swiss Sustainable Finance, the Global Compact Network co-convenes the Swiss Consultation Group for the TNFD to expand the framework's outreach and engagement.