Panel
Livestream
Electrification: the Greatest Opportunity in Capitalism's History?
Climate & Energy
Innovative Finance
The electrification of the global economy constitutes a new industrial revolution. It will see deployment of $25 trillion in capex between now and 2030, disrupting value chains and unlocking new profit pools, often in unexpected places. This session will explore the changes our energy system will experience, the investment opportunities, and the role of finance and policy in this transformation.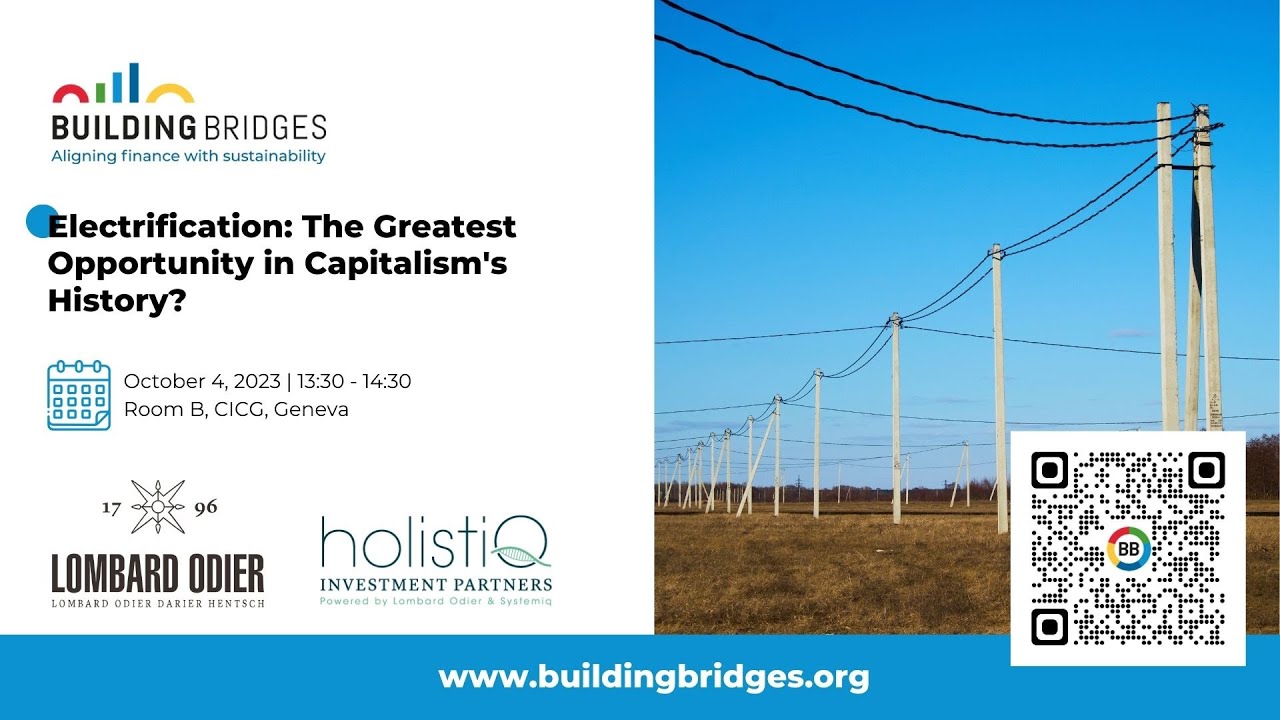 Speakers:
Jean-Pascal Porcherot
Managing Partner - Lombard Odier
Jean-Pascal Porcherot is a Managing Partner of Lombard Odier Group and Co-Head of the LOIM division with Nathalia Barazal. He joined Lombard Odier in May 2009 and was primarily involved in the development of the Firm's alternative investment strategies within LOIM. He was appointed CEO of its hedge fund business (1798 Alternatives) in 2014 and became a limited partner of the Group in 2018. In January 2022, he was appointed Managing Partner.
Mr. Porcherot began his career at JPMorgan in 1997 before joining Lazard Frères in 1998 as an Associate, and eventually becoming Vice President (Mergers and Acquisitions). He has also held the position of Managing Director in the Equity Capital markets team at Deutsche Bank, where he started in 2002 as Vice President.
During his career, Mr. Porcherot has advised numerous businesses, private equity funds and governments across Europe.
He earned a Master's Degree in Financial Markets from Pierre et Marie Curie University in 1995 and holds a degree in Engineering from École Nationale Supérieure des Télécommunications in Paris. 

Kingsmill Bond
Senior Principal of the Strategy Team - Rocky Mountain Institute
Kingsmill Bond is Senior Principal of the Strategy Team at Rocky Mountain Institute (RMI). He spent 25 years as a sell-side equity analyst and strategist, writing research for investors such as Blackrock and Fidelity. He worked for Deutsche Bank, Citibank, and Sberbank in London, Hong Kong, and Moscow. He analyzed a wide range of stocks and themes, from the resurgence of Russia to the growth of the internet, from the rise of China to the implications of the US shale boom. About 7 years ago, Mr. Bond figured out that the energy transition would be the greatest driver of financial markets and geopolitics in our era, and he has been working on it ever since. He believes that energy lies at the core of all of our systems, and the shift from fossil fuels to renewables can only be compared with the industrial revolution of 250 years ago, which enabled a 50-fold increase in primary energy demand and shaped the modern world.

Camilla Nilsson
Chief Executive Officer - Kyoto Group
Camilla Nilsson joined Kyoto Group in March 2021. She has extensive international industrial experience from leadership positions in large international companies such as Norsk Hydro ASA, Yara International ASA, Umoe BioEnergy ASA, Agrinos AS, including experience with multinational JV partnership. Prior to joining Kyoto Group, Camilla Nilsson came from Yara International where she held the positions VP for the business area Professional Farm Connectivity and Digital Service Platform, and CFO at Digital Farming.

Michael Urban
Chief Sustainability Strategist - Banque Lombard Odier & Cie SA
Michael Urban is Chief Sustainability Strategist at Lombard Odier Group (the Group). He joined the Group in 2020 as Deputy Head of Sustainability Research. In his current role, he supports the Group's Managing Partners in the design and implementation of the Group's global sustainable investment strategy. He also manages the firm's academic partnership with the University of Oxford where he holds an Honorary Research Fellowship and a membership to Oriel College.  Prior to joining Lombard Odier, Dr. Urban was Research Associate at the University of Oxford's Centre for the Environment where he led several research initiatives as part of a European Research Council funded project titled "Finance and Development in the 21st Century". He has held various teaching positions at the University of Oxford and Bristol University, and worked at Pictet & Cie, where he covered thematic and socially responsible investments (SRI) funds.  Dr. Urban holds a BSc in Management from HEC Lausanne, an MSc in Environment, Politics and Globalization from King's College London and a PhD in Economic Geography from the University of Oxford.

Agustín Delgado Martín
Chief Innovation and Sustainability Officer - Iberdrola S.A.
Augustin Delgado Martín was appointed Chief Innovation and Sustainability Officer for the Iberdrola Group in 2010. He is also responsible for the venture capital program in IBERDROLA (PERSEO), where he coordinates PERSEO´s investment in technology companies related to new sustainable energies and business models. He joined Iberdrola, S.A. in 2006 as innovation director. Dr. Delgado Martín serves as a member of the advisory board of NEOTEC, the Spanish Venture Capital Investment Program, a member of the Energy Transitions Commission, a global coalition of leaders from across the energy landscape committed to achieving net zero emissions by mid-century, a member of the advisory board of the Global Alliance for Sustainable Energy, a member of the advisory board of REDS, the Spanish Network for Sustainable Development and part of the United Nations' Sustainable Development Solutions Network, a member of the advisory board of Massachusetts Institute of Technology's Future Energy Systems Center, and co-director of the Iberdrola Chair SDG-2030 Agenda at the Polytechnic University of Madrid. Dr. Delgado Martín holds a M.S. in industrial engineering from the Escuela Superior Industrial of Universidad Pontificia de Comillas in Madrid and a PhD in industrial engineering from the Universidad Nacional de Educación a Distancia (UNED).

Vincent Minier
Vice President Energy Transition Research - Schneider Electric Sustainability Research Institute
Vincent Minier is Vice President Energy Transition Research at the Schneider Electric™ Sustainability Research Institute, within Global Strategy & Sustainability. As an energy expert, he is involved in several international organizations, think tanks or industry associations. Before this, he spent over 25 years at Schneider Electric with different positions at both operations and global levels. In 2021-2022, Dr. Minier was a Materials, Energy and Infrastructure Platform Fellow at the World Economic Forum, contributing to shaping the Net Zero Carbon City initiative and leading the design of new supporting tools triggering decarbonization investments in Cities. He holds both a Doctor of Science degree and PhD degree in Optoelectronics, and an Engineering Degree in Physics from National Polytechnic Institute of Grenoble (France), completed by a Finance for Executive Education program at INSEAD.

Kristen Panerali
Head of Clean Power and Electrification - World Economic Forum
Kristen Panerali is the Head of Clean Power and Electrification, and serves on the leadership team of the Energy, Material and Infrastructure platform. In her role she oversees a portfolio of programs including Clean Power and Electrification, Net Zero Carbon Cities and communities such as Electricity Industry. At Davos, a Clean Power Accelerator and an Electrification Accelerator will be launched. Kristen Panerali has 20 years of experience in the government and energy-related private sector. Prior to joining the Forum in 2016, she worked in electricity sector strategy, acquisitions, project development and financing with the AES Corporation, AES Solar and SunEdison. In the early part of her career, Ms. Panerali worked at the White House during in various political roles at the National Economic Council and Office of Management and Budget. She has an MBA from IESE Business School in Spain.

Mattia Romani moderator

,
Chief Policy Officer - holistiQ Investment Partners
Mattia Romani is Senior Counsellor to the Special Envoy on Climate Change and President Designate of COP28. He is an internationally recognised leader on sustainable finance, power system decarbonisation, and transition economics. Dr. Romani is a partner at Systemiq, the systems change company and senior at holistiQ Investment Partners ("holistiQ"), the newly launched sustainable asset management platform of Lombard Odier Investment Managers, powered by a unique partnership between the Lombard Odier Group and the systems change firm Systemiq.   Dr. Romani was previously at Autonomy Capital, where his work as Head of Sustainability ranged from sustainability investment and carbon market analysis to energy and mobility research. Prior to that he served as Managing Director for Economics, Policy and Governance at the European Bank for Reconstruction and Development (EBRD) between 2014 and 2020, and was formerly Deputy Director General and Chief Economist of the Global Green Growth Institute (GGGI). Dr. Romani worked closely with Lord Nick Stern on the ground-breaking Stern Review, and was a senior expert in sustainability and resource productivity at McKinsey. He holds a D.Phil (PhD) in Economics from University of Oxford and a MSc in Development from the London School of Economics.