Panel
Livestream
Energy Transition: Green and Just
Climate & Energy
Social
Transparency & Accountability
As renewable energy sources can create new human rights challenges, the financial sector will need to address climate and human rights concerns in parallel. This panel discussion explores how to assess and draft transition plans that achieve the dual goals of both environmental sustainability and social justice to inform financial institutions.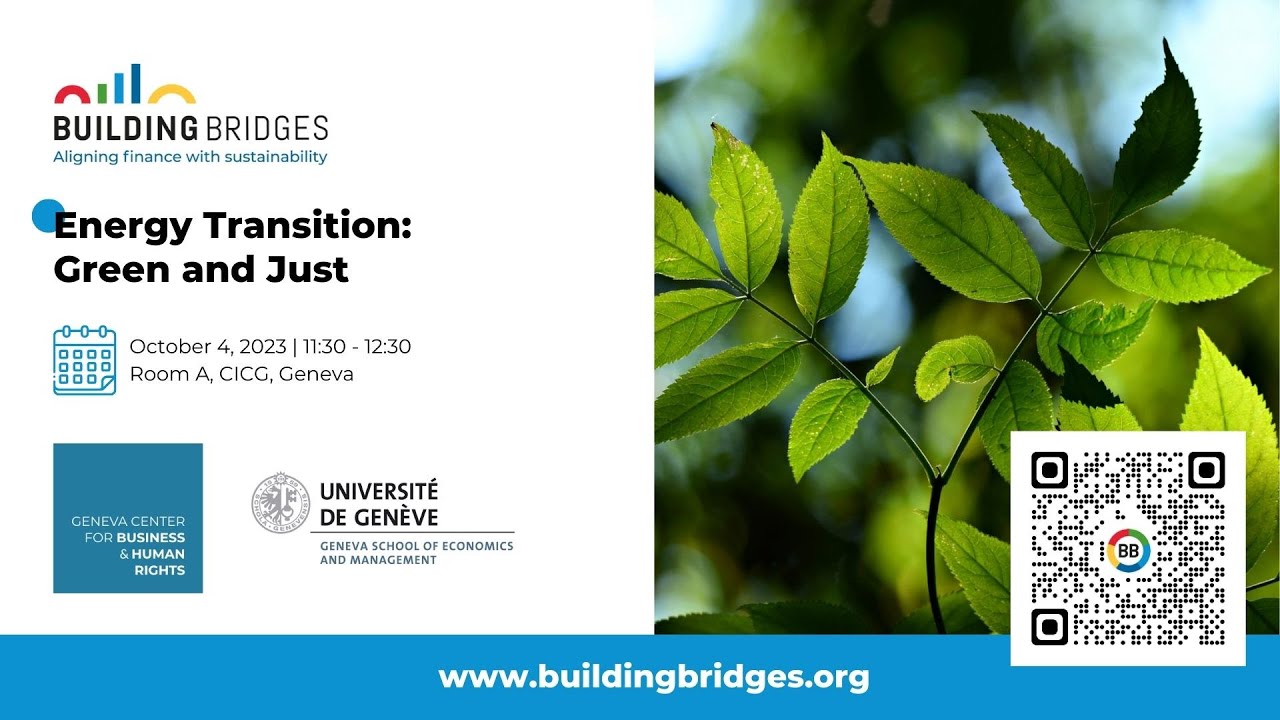 Speakers:

Dorothée Baumann-Pauly
Director - Geneva Center for Business and Human Rights
Dorothée Baumann-Pauly is a Professor at the Geneva University's School of Economics and Management as well as the Director of the Geneva Center for Business and Human Rights, inaugurated in 2019 by the University of Geneva (UniGE) - the first human rights center at a business school in Europe. Since 2013, she is the Research Director at the NYU Stern Center for Business and Human Rights. As a specialist in business ethics and with extensive practical experience in implementing human rights in multipartite contexts, Ms. Baumann-Pauly has authored numerous publications at the intersection of business ethics, corporate responsibility, private governance mechanisms, and human rights. Over the past decade, she has taught on various human rights-related subjects both in the United States and in Europe.

Christian Leitz
Head Corporate Responsibility - UBS
Christian Leitz is Head Corporate Responsibility at UBS. The Corporate Responsibility team coordinates the bank's sustainability reporting and has particular responsibilities in the area of stakeholder management. He convenes the Thun Group of Banks on banking and human rights. He is also the bank's historian. Prior to joining UBS, Mr. Leitz taught history at universities in the UK and New Zealand. He has written and edited six books and a very substantial number of articles and essays.

Suzanne Spears
Founder and Principal - Paxus LLP
Suzanne Spears is the founder and principal of Paxus LLP, a law firm specializing in international law & dispute resolution and business & human rights. She is also Associate Professor of Law at the University of Notre Dame Law School. Ms. Spears has more than 20 years of experience, including as a partner at Allen & Overy LLP, and as a leading advisor on the legal risks and opportunities associated with sustainable finance. She held positions with the United Nations (in New York and Colombia), the Council on Foreign Relations and the Inter-American Institute of Human Rights.
In addition to being a lawyer, with a J.D. from Columbia University School of Law, Ms. Spears is a political and social scientist by background, with a master's from Colombia's School of International and Public Affairs, and a bachelor's in International Relations from Tufts University.

Melchior de Muralt
Managing Partner - Pury Pictet Turrettini
Melchior de Muralt joined de Pury Pictet Turrettini in 2001 as Managing partner. Member of the executive committee, he is in charge of institutional clientele. He co-founded Blue Orchard Finance, serves as the chairman of Cadmos shareholder engagement funds and is also a member of the assembly of the ICRC. Previously, Mr. de Muralt was responsible for the Swiss institutional clientele at Lombard Odier. He holds a PhD in Political Science from the University of Lausanne

Marie-Laure Schaufelberger
Head of ESG and Stewardship - Pictet
Marie-Laure Schaufelberger is Head of ESG and Stewardship for the Pictet Group where she drives corporate strategy for the Pictet Group's Responsible Vision across investments and its own assets. She is also President of Sustainable Finance Geneva. Ms. Schaufelberger began her career at Pictet in 2007 in the media relations and public affairs team where she was also responsible for Corporate Social Responsibility initiatives. In 2014, she joined Pictet Asset Management's Thematic Equities team as a Product Specialist, covering business development and client portfolio management across several environmental and social thematic impact strategies. Ms. Schaufelberger holds a Master's degree in International Relations from the Geneva Graduate Institute and is a CFA charter holder.

Patricia Richter
Senior Technical Officer Social Finance - International Labour Organization
Patricia Richter has been working with the ILO Social Finance Programme since 2007 and leads the program's work on sustainable investing and innovative finance. A development finance professional with twenty years of experience, her expertise covers the areas of social and environmental management, social performance, impact measurement, and rural finance with a regional focus on Africa and Asia & Pacific.