Back
How Can Sustainable Finance Create a More Resilient Financial System?
Wednesday, July 5, 2023
– Wednesday, July 5, 2023
14:00
– 15:00
Recent events have highlighted that financial systems can easily be shaken and impact investors' trust. Sustainable finance has a key role to play in delivering on environmental, social and governance objectives. It does this by channeling private investment into the transition to climate-neutral and resilient, resource-efficient and fair economy, as a complement to public money. But what if applying sustainable finance principles across the industry could not only contribute to a faster transition of the global economy, but also to a more agile and resilient financial system?
Join us on July 5 to explore ways to consolidate our financial systems with key leaders in the field!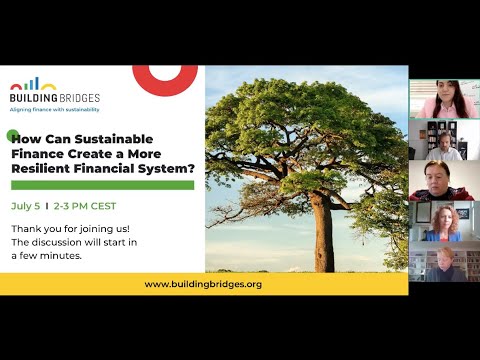 Speakers:

Andrea Webster Panelist

,
Head of Financial Transformation Benchmark - World Benchmarking Alliance
Andrea is Head of the Financial System Transformation at the World Benchmarking Alliance which benchmarks banks, asset owners, asset managers and life insurers against global frameworks and principles. She is also leading work to champion best practices across the sector, peer to peer learning as well as supporting various industry and global initiatives. Before joining World Benchmarking Alliance, Andrea has spent over 20 years in the finance sector, from being a hands-on practitioner to management and advisory positions in the asset management industry across a broad range of public and private market strategies and investor groups.

Fiona Stewart Panelist

,
Lead Financial Sector Specialist - World Bank
Fiona Stewart, Lead Financial Sector Specialist, joined the Long-term Finance Team in the World Bank's Finance, Competitiveness & Innovation Global Practice in 2012. She provides policy advice on pension and insurance market reform to governments and regulators around the world. She also leads the coordination the Bank's work on sustainable finance, including representing the institution at the G20 Sustainable Finance Working Group, Co-Chairing the Finance Taskforce under the UN Decade on Restoration. She is currently acting as Secretary to the Coalition of Finance Ministers for Climate Change. From 2004, she worked for the OECD's Financial Affairs Division and led the Secretariat of the International Organisation of Pension Supervisors (IOPS). Prior to the OECD, she worked in the pension fund industry, including as Head of American Express Asset Management in Japan. She served on the advisory board of one the OECD's pension funds and represents the World Bank staff on the organization's Pension Fund Committee. She holds degrees from Oxford and Johns Hopkins Universities and a Chartered Financial Analyst qualification.

François-Xavier Vucekovic Panelist

,
Chief Investment Officer - Edmond de Rothschild Private Equity
François-Xavier Vucekovic is Chief Investment Officer at Edmond de Rothschild Private Equity and member of the executive committee. His role is to develop new initiatives in Private Equity, define key investment themes, and participate in investment decisions. He has been instrumental in the development of the Private Equity activity, which encompasses 15 differentiated investment strategies and over EUR 3.6 bn of AUMs. Mr. Vucekovic currently serves on various boards. He also executed several direct investments in Europe. Before joining Edmond de Rothschild, he worked in the investment banking and asset finance industry. He holds a Master Degree in Finance and Management from EDHEC Business School, France.

Evgenia Molotova Panelist

,
Senior Portfolio Manager, Positive Change Strategy - Pictet Asset Management
Evgenia Molotova is a Senior Portfolio Manager at Pictet Asset Management since December 2017. She has over 15 years of experience in long- and short-term equity strategies. Her interests include sustainable investing, active engagement, artificial intelligence and machine learning.

Peter Vanham moderator

,
Executive Editor - Fortune
Peter Vanham is Executive Editor at Fortune. He writes about the global economy and the people who help shape it, contributing stories to Financial Times, Business Insider, Quartz, Foreign Affairs, New York Times, Wall Street Journal, Project Syndicate and 30+ other media. Mr. Vanham previously worked for the World Economic Forum where he published thought-provoking and business books, including "The Great Reset". For a decade, he has been observing and interviewing CEOs of Fortune 500 companies, listening to their stories and leadership lessons. His latest book, Stakeholder Capitalism, written with Klaus Schwab, explores how to build a global economy that works for progress, people and planet.
Event organized by