Panel
Livestream
Valuing Water: Engaging for Systemic Change
Climate
Impact
Innovative Finance
Investors are already seeing how water-related issues, exacerbated by climate change, are impacting the profitability of companies across industries and geographies. This panel of experts will explore why water risk and opportunity are still insufficiently addressed globally and how investors can influence how water is valued by corporations and drive the systemic transition to more sustainable water usage. Together we will explore how to allocate capital to those companies and projects developing the water solutions and innovations that are most urgently needed. Action oriented, the event will provide a platform to mobilize investors and asset owners around the Valuing Water Finance Initiative. This new global investor-led effort spearheaded by Ceres seeks to engage companies with a high water footprint to value and act on water as a financial risk and drive the necessary large-scale change to better protect water systems.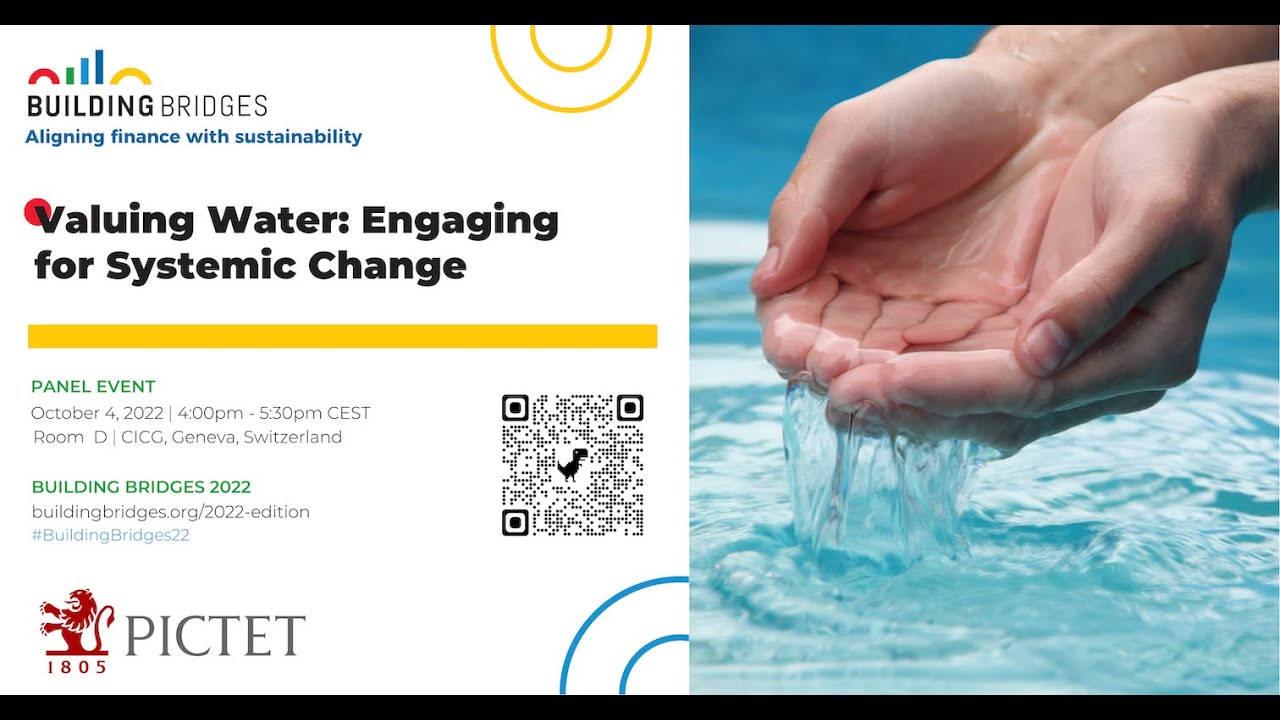 Speakers:

Samuel Godfrey
East and Southern Africa advisor, UNICEF
Dr. Samuel Godfrey is the East and Southern Africa advisor for UNICEF. Samuel is a Chartered Civil Engineer with a PhD and MSc in Water and Environmental Engineering from Loughborough University, UK and two bachelor's degrees in Engineering (BEng) and International Development (BA) from the UK. In 2021 he was awarded the title of Honorary Professor in Water at the Bartlett School of Sustainable Construction at UCL (University College London). He has 25 years of professional experience in the Water, Sanitation, Climate, Environment and Energy Sector which includes 18 years with UNICEF in the Madhya Pradesh, India field office (2004-2008), UNICEF Mozambique Country Office (2008-2013), UNICEF Ethiopia Country Office (2013-2018) and UNICEF East and Southern Africa Regional Office - ESARO (2018 to date). Prior to joining UNICEF, he was a researcher and academic in International Water Development at WEDC, UK where he developed skills and interest in climate and environmental child centered, data analysis and multisector programming. He has subsequently published more than 60 academic papers between 2000 and 2020 in this area. He is the co-author of the ESAR Climate Crisis and Children report and is currently leading the UNICEF Strategic Plan Goal Area five output area in ESAR which includes water supply, sanitation, disaster risk reduction, children in urban settings and environmental sustainability.
Kristen James
Senior Program Director, Water, CERES
Kirsten James directs Ceres strategy for mobilizing leading investors and companies to address the sustainability risks facing our freshwater and agriculture systems. Her work includes leading the Valuing Water Finance Initiative, an investor-led effort which seeks to drive corporate action on water-related financial risks.
Previously, Kirsten served for five years as the director of California policy and partnerships at Ceres, where she led strategy development for Ceres's California-focused policy work, engaging companies and investors in support of public policies that call for sustainable water management, clean energy and greenhouse gas emissions reductions in California.
Prior to Ceres, Kirsten worked for nine years at a water resource-focused NGO, as their Science and Policy Director. In her personal capacity, she serves as a committee appointee for the Los Angeles County Safe, Clean Water Program and an appointee of the Speaker of the California Assembly to the Santa Monica Mountains Conservancy Advisory Council. She graduated with a bachelor's degree from Northwestern University and a master's degree in environmental science and management from the Bren School at University of California Santa Barbara.
Cédric Lecamp
Senior Investment Manager, Pictet
Cédric Lecamp joined Pictet Asset Management in 2007 and is a Senior Investment Manager in the Thematic Equities team, and Head of the Water Strategy since 2018.
Prior to 2018 he acted as lead manager of the Nutrition strategy, having repositioned the strategy in 2017. He acted as senior investment manager on the Water strategy from Oct 2007 to December 2015, mostly in charge of Water Technology names. Cédric first joined Pictet Asset Management the Small-cap Equities team.
Mr. Lecamp obtained a Bachelor of Law from the University of Durham, and holds an MSc in Business and Administration from HEC Geneva.

Marie-Laure Schaufelberger
President, Sustainable Finance Geneva
Marie-Laure Schaufelberger is Head of ESG and Stewardship for the Pictet Group. She began her career at Pictet in 2007 in the media relations and public affairs team where she was also responsible for Corporate Social Responsibility initiatives. In 2014, she joined Pictet Asset Management's Thematic Equities team as a Product Specialist, covering business development and client portfolio management across several environmental and social thematic impact strategies. She is the coordinator of the Pictet Group's Sustainability & Stewardship Board, which is responsible for approving and driving the Pictet Group's Responsible Vision across investments and its own assets. She holds a Master's degree in International Relations from the Graduate Institute of International and Development Studies in Geneva and is a CFA charter holder.

Hubertus Kuelps
Moderator - Head of Group Communications and responsible, Pictet Group Foundation
Before joining Pictet in 2020, Hubertus Kuelps was Group Head Communications & Branding at UBS for seven years. In 2017 he took on the additional role of Head of UBS in Society, the firm's unit coordinating all activities related to sustainability. Prior to that, he spent 11 years with Allianz Group, where he worked in several operational and communications roles in Germany, Indonesia, Malaysia and the US. This was followed by two years as Head of Global Communications at SAP. 
A lawyer by training, he started his career at Helmchen & Grothe Law Offices in Berlin, followed by a two-year stint at the German American Chamber of Commerce in New York.
Mr. Kuelps holds a BA in History from Middlebury College (Vermont, USA), and passed the bar exams at the University of Heidelberg Law School (1st bar exam) and State of Brandenburg (2nd bar exam).
Martijn Oosterwoud
Lead ESG Specialists for UBS Group Sustainability and Impact Managing Director