Panel
Livestream
Rethinking Financial Valuations – The Integration of Sustainability Considerations
Biodiversity
Climate
Impact
Innovative Finance
Social
Capital allocation decisions often do not adequately factor in sustainability considerations, leading to sub-optimal decisions from both a sustainability and profitability perspective. Negative environmental/social impacts that are "externalities" today, can easily become costs with an actual cash flow impact. The session focuses on the importance of sustainability integration in financial valuations while touching upon potential approaches to tackle this challenge.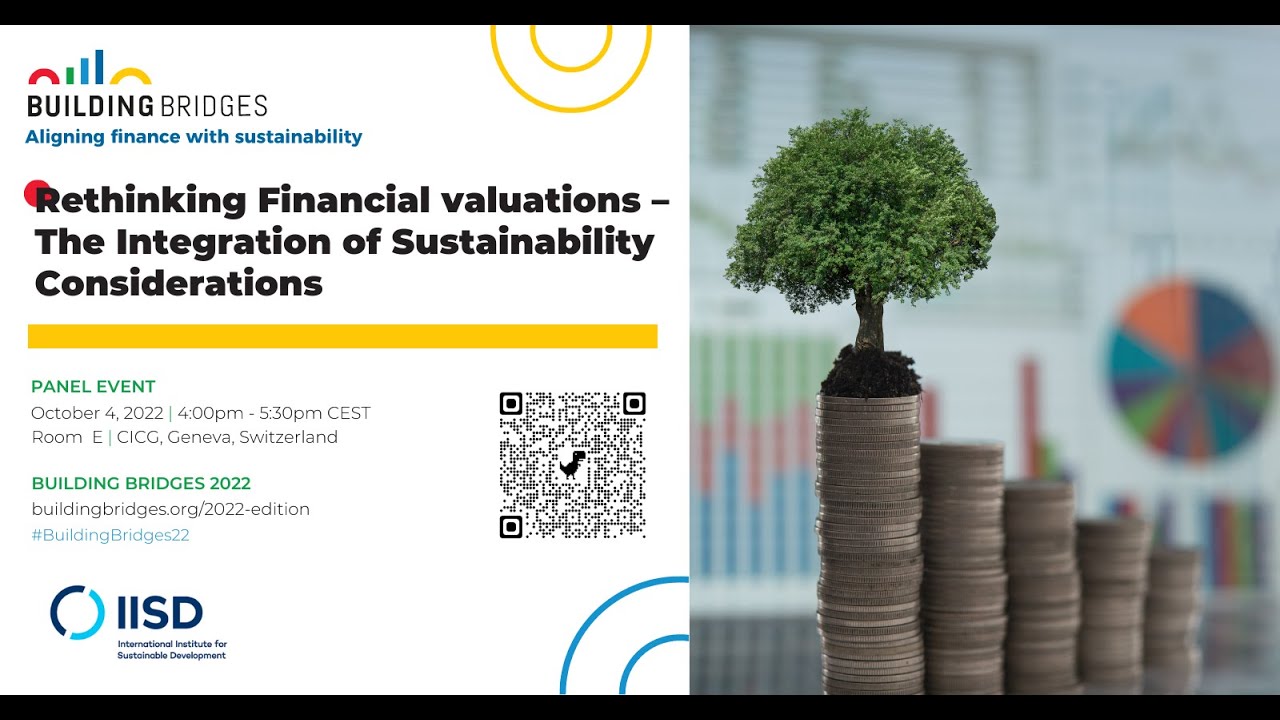 Speakers:

Morten Siersted
Director & Chairman of the Board, F1F9; Senior Associate, IISD
Morten Siersted is a senior associate supporting the Sustainable Infrastructure and Sustainable Finance teams at IISD. Morten's specific focus is on the economic and financial modelling of sustainable infrastructure projects. This includes developing and maintaining the spreadsheet-based modelling components of IISD's Sustainable Asset Valuation (SAVi) modelling framework. It also involves training and mentoring IISD colleagues, supporting individual SAVi assessments, and capacity building among IISD partners and clients.  Morten has a long background in project finance, in particular in the financial modelling of long-term infrastructure projects. During the first part of his career, he worked in the London offices of a number of leading project finance banks and advisors. Thereafter, he founded F1F9, a company specializing in the financial modelling of infrastructure projects. As part of this, Morten co-authored the FAST Standard, a uniquely open and comprehensive spreadsheet modelling methodology now widely regarded as an industry standard. Morten has degree in economics from the School of African and Asian Studies at the University of Sussex and a master's degree in international public policy analysis from the University of Bath. He is also an alumnus of the Social Finance Programme at the University of Oxford. At the invitation of IISD, in 2019 he co-authored the publication Modelling for Sustainable Development.
In addition to his native Danish and English, Morten is conversant in Spanish and French. Morten divides his time between Bath in England, Copenhagen, and Geneva.
Corinne Namblard
CEO, VivaVacs UK
Corinne Namblard is an entrepreneur, director and consultant. She is specialized in financial issues - capital markets, investment banking, project finance and venture capital - and the infrastructure sector.

David Uzsoki
Sustainable Finance Lead - IISD
David Uzsoki works as a Sustainable Finance Lead and Senior Advisor in IISD's Economic Law and Policy Program. He has several years of experience in informing and advising public and private investors, government officials and financial market participants on how the allocation of capital can be better aligned with sustainability objectives. 
His areas of expertise include: 
•    Sustainable investing trends, strategies, and innovation
•    Gender-lens investing and the mainstreaming of gender considerations in investment decisions
•    Environmental, social, and governance (ESG) impact assessment
•    Second-party opinions on green and sustainability bond frameworks
•    Sustainable and nature-based infrastructure financing solutions
•    Sustainable finance policy and regulation
•    Natural capital and biodiversity investing
•    Climate risk assessment and stress-testing
•    The use of blockchain technology and other fintech solutions in sustainable investing. 
He also co-developed the Sustainable Asset Valuation (SAVi) methodology, which uses system dynamics and project finance modelling to assess the environmental, social, and economic impact of infrastructure projects. 
Before joining IISD, he spent several years working with Morgan Stanley in wealth management. As a client advisor, he was responsible for running the daily operations of a busy wealth management desk, providing advisory, trading, and custody services to family offices, asset managers, and high net worth individuals.
He holds a bachelor's degree in business administration and a master's degree in international finance. He is based in Geneva, Switzerland.

Jeroen Bos
Global Head of Sustainable Investing, Credit Suisse Asset Management
Jeroen Bos is the Global Head of Sustainable Investing at Credit Suisse Asset Management. Jeroen joined Credit Suisse in January 2022 from NN Investment Partners where he was the Head of Equities & Responsible Investing and part of the Management Team Investments. Prior to that, he worked as a Director at UBS in New York and a Vice President at JPMorgan in London. He started his career at MeesPierson in Amsterdam in 1999 where he was a Senior Equity Analyst.
In addition to his role at Credit Suisse, Jeroen sits on the Investment Committee of the Rail & Public Transport Pension fund in the Netherlands, is a board Member of the AdoptRainforest Foundation, sits on the Advisory Board of SPO Pension Education and is a member of CFA Institute's Global ESG Working Group. In the '13-'21 period Jeroen was also a board member of CFA Society VBA Netherlands.
Jeroen holds a degree in Economics from the Free University of Amsterdam (VU). In addition, Jeroen is a CFA charterholder and holds the CAIA, CMA, CFA ESG and Certified Pension Executive (CPE) certifications. Lastly, Jeroen completed INSEAD's International's Directors Program and Harvard's Investment Management Program.

Ben Payton
Moderator - Special Projects Editor at Responsible Investor
Ben Payton is a special projects editor at Responsible Investor, where he edits in-depth reports covering a range of sustainability themes. He is also a freelance writer, covering topics around sustainable investment, natural resources and the energy transition for several publications. Ben was previously a senior consultant at advisory firm TDi Sustainability, where he focused on advising companies on ESG issues in their supply chains. Earlier in his career, Ben spent seven years at consulting firm Verisk Maplecroft, where he was Head of Africa Research.