Panel
Livestream
Innovative Blended Finance Solutions for Impact
Emerging Markets
Innovative Finance
This event discusses innovative blended finance solutions globally and how they can achieve scale and reach the next frontier. Moreover, it gives an update on the SDG Impact Finance Initiative since its launch at the Building Bridges Week 2021 including upcoming activities.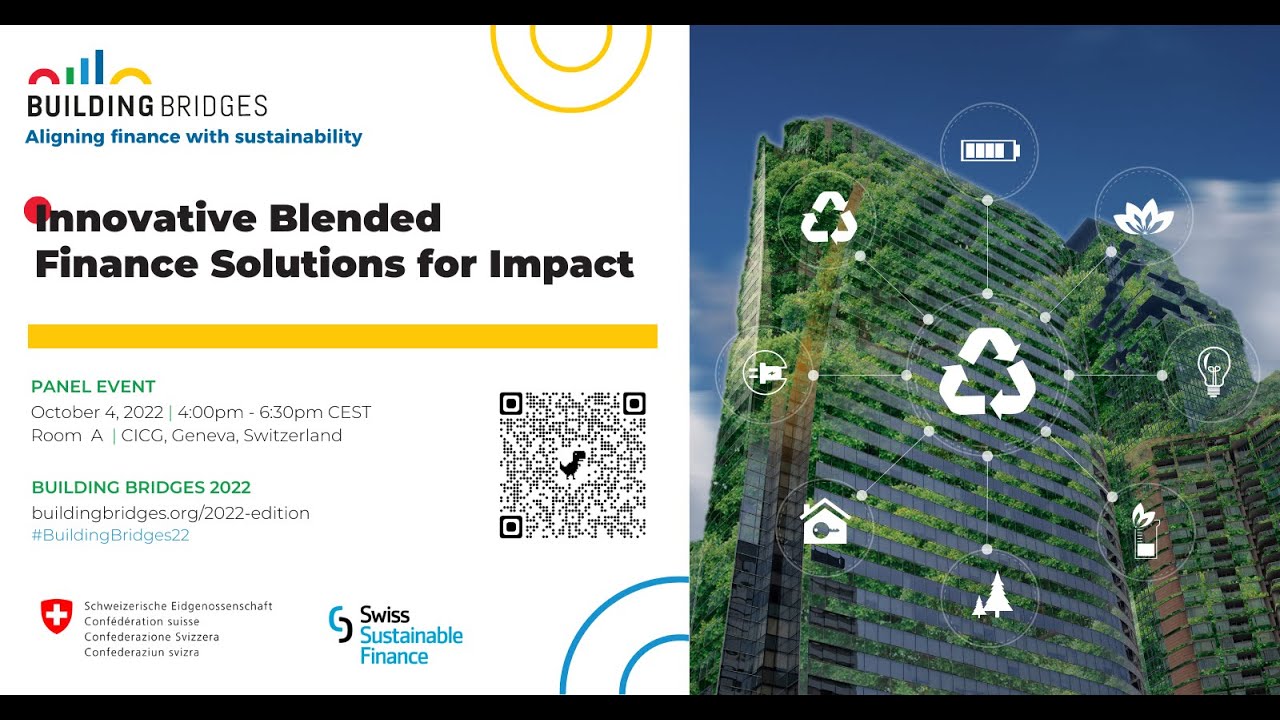 Speakers:
Philippe Valahu
CEO, Private Infrastructure Development Group (PIDG)
Philippe Valahu has 30 years of international experience in infrastructure project and export finance and risk management in Latin America, Africa and Asia.

Dominique Paravicini
Head of the Economic Cooperation & Development Division, State Secretariat for Economic Affairs (SECO)
Ambassador Dominique Paravicini is the Head of the Economic Cooperation and Development Division and delegate of the Federal Council for Trade Agreements since 1 September 2021.

Sabine Döbeli
CEO, Swiss Sustainable Finance
Sabine Döbeli has led Swiss Sustainable Finance (SSF) for 7 years as CEO. Prior to joining SSF, she worked at Bank Vontobel as Head of Corporate Sustainability Management and at Zürcher Kantonalbank as Head of Sustainability Research. She is a member of the Advisory Committee on International Cooperation of the Swiss Federal Council, of the research advisory council of the Swiss Federal Office for the Environment (FOEN) and of the advisory councils of the Sustainable Digital Finance Alliance (SDFA) and Stiftung Drittes Millenium. Ms. Döbeli has a Master of Advanced Studies in Business and Marketing from the University of Basel and a Master of Science in Environmental Sciences from the Swiss Federal Institute of Technology (ETH) Zürich.

Maya Ziswiler
CEO, UBS Optimus Foundation
Maya Ziswiler is the CEO of the UBS Optimus Foundation, which leverages philanthropic capital to build an impact economy, through high impact programs in education, health, child protection and the environment, with a strong focus on innovative social finance solutions.

Liliana de Sá Kirchknopf
Head of Private Sector Development Division - SECO
Liliana de Sá Kirchknopf is Head of the Private Sector Development Division in the Economic Development Cooperation Directorate at SECO (Swiss State Secretariat of Economic Affairs), promoting a better business environment, access to finance and strengthened skills for the companies to foster entrepreneurship and innovation. Sustainable finance and impact investing is a key priority with dedicated programs on framework conditions and investment instruments such as SIFEM (Swiss Investment Fund for Emerging Markets) or PIDG (Private Investment Development Group) under its supervision. She has been working for SECO since 1996 in different positions, including as Senior Advisor at the Swiss Executive Directors Office at the World Bank Group in Washington D.C., as private sector development specialist for the International Finance Corporation IFC and as Head of the Swiss Contribution Office in Budapest, responsible for the set-up and implementation of a 130 million CHF cohesion programme in Hungary. She holds a masters in economics from the University of Berne with a minor in political science. She speaks five languages.

Leticia Ferreras Astorqui
Vice President & Portfolio Manager, Allianz Global Investors
Leticia Ferreras Astorqui is a portfolio manager in the Allianz Global Investors' Development Finance team, which manages over USD 3bn of commitments. Leticia joined AllianzGI in July 2020 to help expand AllianzGI's presence in Emerging Markets through various development finance strategies.

Kruskaia Sierra-Escalante
Senior Manager, International Finance Corporation IFC
Kruskaia Sierra-Escalante is the Senior Manager of IFC's Blended Finance Department, managing a pool of contributor funds of over $5 billion focused on accelerating IFC's engagement in low-income and fragile and conflict-affected countries, climate, infrastructure, gender, small and medium enterprise development, and agriculture.

Laura Hemrika
Global Head Corporate Citizenship & Foundations, Managing Director, Credit Suisse Foundation
Laura Hemrika leads the bank's global social commitment in financial inclusion, financial education and future skills development. Her work also includes close collaboration with the bank's client philanthropy and impact investing work, particularly on new investment product development, public-private partnership design and thought leadership initiatives.

Christian Frutiger
Ambassador, Assistant Director General, Head of Global Cooperation Department - Swiss Agency for Development and Cooperation (SDC)
Ambassador Christian Frutiger is Assistant Director General at the Swiss Agency for Development and Cooperation (SDC). He is responsible for five global programmes in the areas of climate change, water, migration, health, and food security, as well as for the financial and strategic engagement with Switzerland's priority multilateral organisations.

Josien Sluijs
Independent Executive Board President, SDG Impact Finance Initiative
Besides her role as Independent Executive Board President of the SDG Impact Finance Initiative, Josie Sluijs n is also the Managing Director of Aqua for All. She has been active in the field of inclusive finance for over 20 years.