Panel
Livestream
Insuring Nature to Reduce Risks – Risk-transfer Solutions for Coral Reefs
Emerging Markets
Innovative Finance
The session organized by the UNDP Insurance and Risk Finance Facility and the Ocean Risk and Resilience ActionAlliance will shed light on how insurance and risk transfer solutions can be developed for protecting coral reefs. It will also discuss how efficient investments in reef risk reduction can lead to nature-positive world.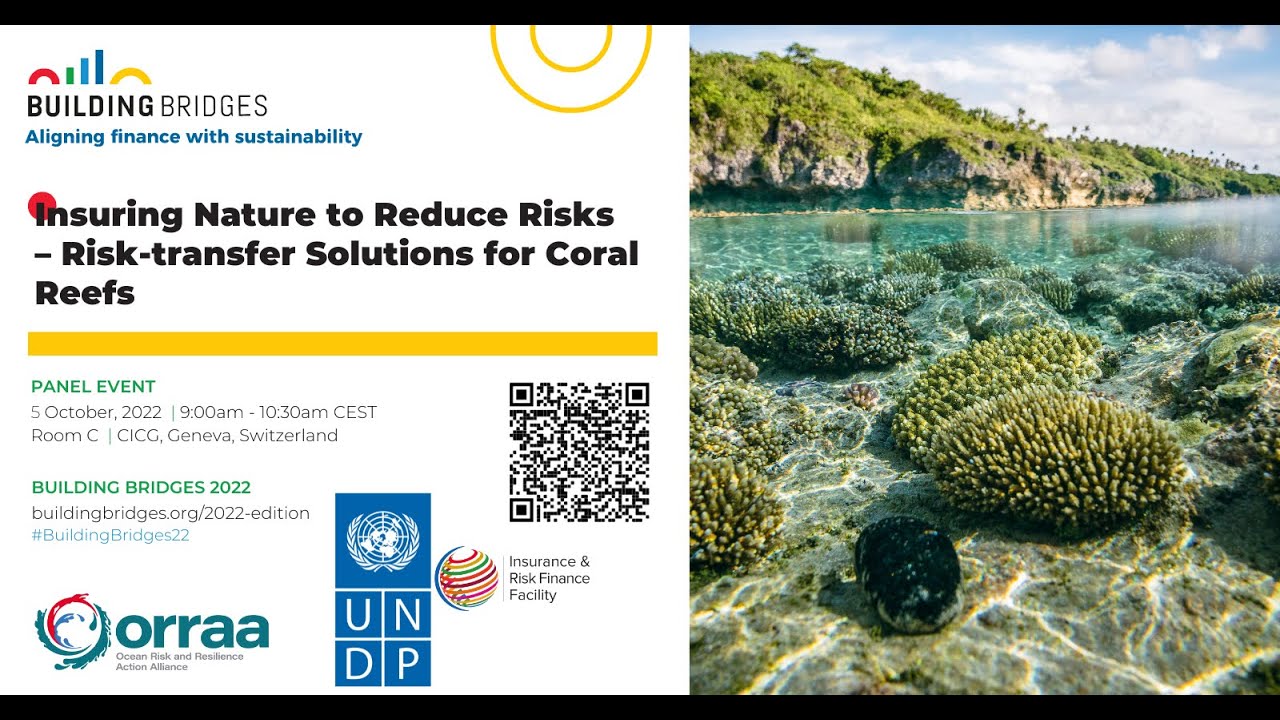 Speakers:

Le Thi Tuyet Mai
Ambassador Extraordinary and Plenipotentiary​, Permanent Mission of the S.R. of Viet Na​​m to the United Nations, the World Trade Organization and o​ther International Organizations in Geneva, Switzerland
Ambassador Le is a career diplomat serving in different positions in the diplomatic service of the S.R. of Viet Nam since she joined the Ministry of Foreign Affairs in 1991.
Hans-Peter Jugel
Ambassador, Deputy Permanent Representative, Permanent Mission of the Federal Republic of Germany to the United Nations and to the other International Organizations in Geneva
Ambassador Jugel is a career diplomat, serving in different positions in the German Foreign Office with postings in the Russian Federation, the United States, China, and Estonia.

Hendra Siry
Secretary of Directorate General of Marine Spatial Management, Indonesian Ministry of Marine Affairs and Fisheries
Prior to his current appointment, Hendra Siry assumed several leadership roles as the Interim Executive Director of the CTI-CFF Regional Secretariat, Deputy Director for Coastal Disaster Mitigation and Climate Change Adaptation of Indonesia's Ministry of Marine Affairs and Fisheries and Deputy Director for Spatial and Zoning Plans Region II.

Veronica Scotti
Chairperson, Public Sector Solutions - Swiss Re
Veronica Scotti joined Swiss Re in 1999 where she held several leadership positions before her current assignment, such as Head of Business Development EMEA and Key Account Manager Globals in Zurich; Client Executive in New York; and President and CEO of Canada and the English Caribbean.

Chip Cuncliffe
Program and Risk Director, Ocean Risk and Resilience Action Alliance
Chip Cuncliffe has been working for 10 years in the insurance industry, identifying risk transfer mechanisms and finance solutions to build resilience to ocean-related risks. He established AXA's Ocean Risk Initiative, which included developing and launching a Coastal Risk Index, along with identifying insurance pathways to prevent illegal, unreported and unregulated fishing.

Tenke Zoltani
Senior Advisor, Thematic Debt Instruments, UNDP
Tenke  Zoltani is the Senior Thematic Debt Advisor to UNDP, and leads the agency's debt service offering, responsible for the global portfolio. Tenke is also the Founder of Better Finance.

Jan Kellett
Team Leader, Insurance and Risk Finance Facility, UNDP
Jan Kellett as IRFF's team leader also co-chairs the Insurance Development Forum's operational committee, is UNDP's senior representative to the InsuResilience Global Partnership, and co-created the ORRAA. He led development work in over 15 countries, including with UNDP, Development Initiatives and ODI.

Faraz Amjad
Natural Capital, Risk and Resilience Specialist, Insurance and Risk Transfer, UNDP
Faraz Amjad is an expert in insurance regulatory and market development with over 18 years of experience working across disaster/climate risk insurance, insurance reform projects, development and implementation of new systems and legislations, in the Philippines, Thailand, Vietnam, Indonesia, Pakistan, Malaysia, Maldives, Nepal, Nigeria, Sri Lanka, Tanzania and Afghanistan.