Panel
Livestream
Building: A Sustainable Future
The built environment is responsible for ~40% of global greenhouse gas emissions, which coupled with its long lifespan makes it a key transition sector. On this panel experts will discuss real estate sustainability through topics raised in the UBS Sustainability and Impact Institute's forthcoming whitepaper release on green buildings. 
Key takeaways: 
Be the first to gain leading insights from our newly launched white paper on sustainable buildings  

Exclusive opportunity to attend an in-person discussion from a diverse group of leading voices, comprising the government, industry experts, leading corporates and start-ups in the space
Find out more about the interlinkages between decarbonization in the real estate sector globally and in Switzerland and ways to collaborate in order to achieve scalable and sustainable impact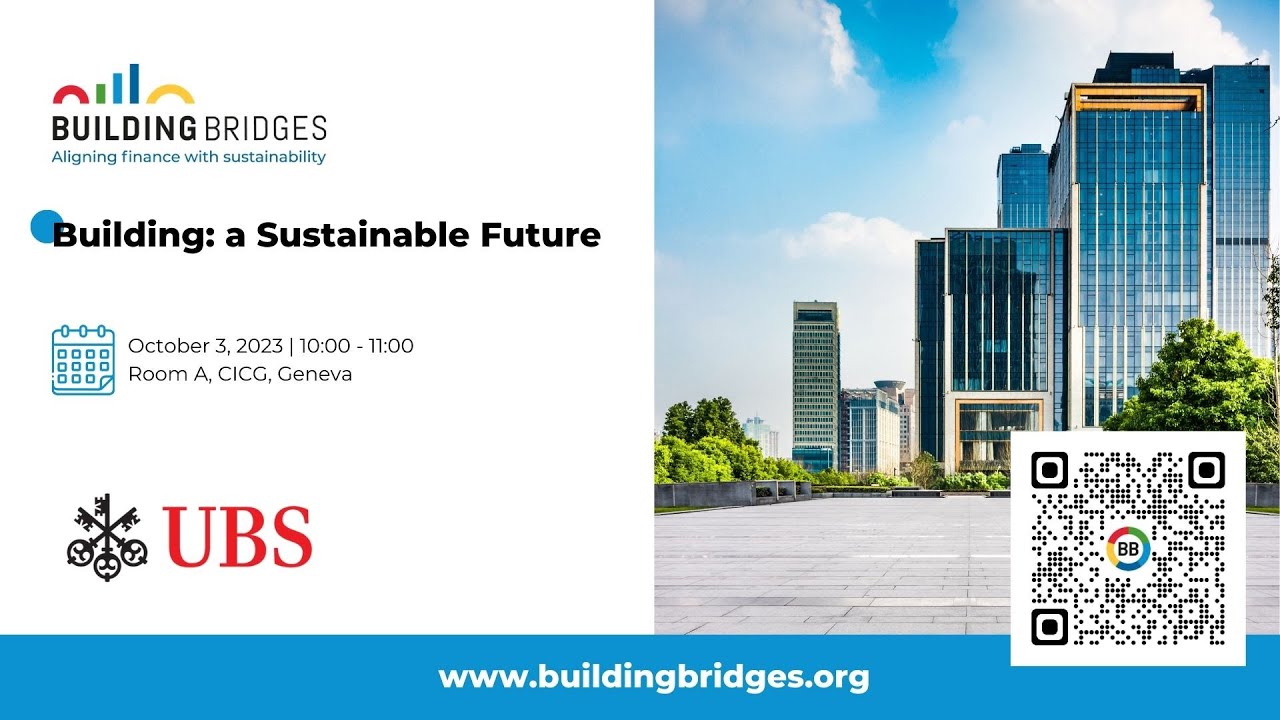 Speakers:

Alfred Ledermann moderator

,
Crew Product Lead Financing and Co-Head of the Center of Excellence for Sustainability - UBS Switzerland
Alfred Ledermann is Crew Product Lead Financing and Co-Head of the Center of Excellence for Sustainability in UBS Switzerland. Together with his team he drives innovation, digitization and the sustainability roadmap for mortgages and corporate lending at UBS Switzerland. He is also part of the SBA working group "AG Hypothekenfinanzierung".
Alfred Ledermann has been with UBS since 2007. Prior to his present role, Mr. Ledermann headed the product management for lending & deposit products and successfully led the LIBOR transition within UBS. In the context of the LIBOR transition, he also chaired the "Loan & Deposit" working Group in the National Working Group for CHF Reference Rates. Alfred Ledermann graduated as Diplom-Kaufmann from the University of Augsburg.

Christoph Baumann
Envoy of the State Secretary for Sustainable Finance - State Secretariat for International Finance
Christoph Baumann is Deputy Head Strategy Division & Envoy for Sustainable Finance at the State Secretariat for International Finance (SIF). In this role, he leads the Swiss government's sustainable finance activities, ranging from negotiations in multilateral bodies (such as the G20) to domestic initiatives. He is a Fellow at the University of Cambridge Institute for Sustainability Leadership and a WEF Young Global Leader.
Mr. Baumann holds an LLM in international law from the University of London, a master's degree in economics from the University of Zurich, and is a CFA charterholder.

Kirsten Henson
Founding Director, KLH Sustainability - Technical Advisor, Undivided Ventures
Kirsten Henson is the Founding Director of KLH Sustainability, a sustainable built environment consultancy based in London. She has contributed to various masterplans, corporate strategies and research over her 20-year career as well as implementing sustainability innovation on numerous award-winning projects including the Queen Elizabeth Olympic Park, the Centre for Sustainable Chemistry (University of Nottingham), innocent's net-zero factory in Rotterdam, St James's Market (The Crown Estate) and 10 climate neutral homes in Walthamstow, London for GS8 which demonstrates how new homes can be created to sequester more carbon than they release and allow residents to live without paying an energy bill.
Ms. Henson has provided independent technical advice to the International Olympic Committee and United Nations Environment Programme to build capacity within Olympic Games Organising Committees and undertake design and procurement reviews. She has worked with Sochi 2014, Rio 2016, Beijing 2022 and Paris 2024. Kirsten Henson has also advised on the design of the new Nairobi central station to ensure this UK government supported projects meets green infrastructure objectives. Closer to home she sits on several Independent Design Review Panels including High Speed 2, and the London Boroughs of Camden, Euston and Epping Forest. She is the convenor of the University of Cambridge's on-line short course: Sustainable Real Estate, tutors on programmes run by the Cambridge Institute for Sustainability Leadership and is a regular lecturer at numerous Universities. Kirsten Henson holds two masters degrees from the University of Cambridge in Engineering and Engineering for Sustainable Development. In part due to her civil engineering background, Kirsten's technical focus is materials sustainability, encompassing embodied carbon, circular economy and supply chains.

Niklas Naehrig
Head of Strategy & Sustainability - Wincasa AG
Niklas Naehrig is Head Strategy & Sustainability at Wincasa AG. Together with his Team, he does not only help his customers to gain transparency within their real estate portfolios concerning ESG Data but also to take action towards net-zero.
Niklas Naehrig joined Wincasa in 2017, starting within Wincasas Construction Department where he lead the Strategy & Development Team before joining the sustainability Community. Mr. Naehrig is a trained Architect and holds a PhD in Architecture from the ETH Zurich.

Gian Reto à Porta
Founder and CEO - Norm
Gian Reto à Porta is a multifaceted entrepreneur based in Switzerland. He serves as the Founder and CEO of Norm, a Swiss company that offers a digital platform focused on identifying and improving the energy performance and CO₂ emissions of buildings. Prior to Norm, he led Contovista, positioning it as one of Switzerland's premier fintech companies.
Gian Reto à Porta has also hold board positions with companies such as Yokoy and Skribble. In recognition of his contributions to the startup ecosystem, he received the "Business Angel of the Year, 2022" award from SECA.
Additionally, he is an investor in early-stage startups.