Panel
Livestream
Mainstreaming Impact Investing in the Pension Fund Industry
Emerging Markets & Impact Investing
Innovative Finance
Transparency & Accountability
Regulation plays an immutable role in facilitating mainstream involvement of pension funds in the impact economy. Clarity on the legality is often a key barrier faced, while legal incentives accelerate mainstream adoption. We will hear of existing regulations in Denmark, Switzerland, The Netherlands, Nigeria and Ghana and hear practical strategies.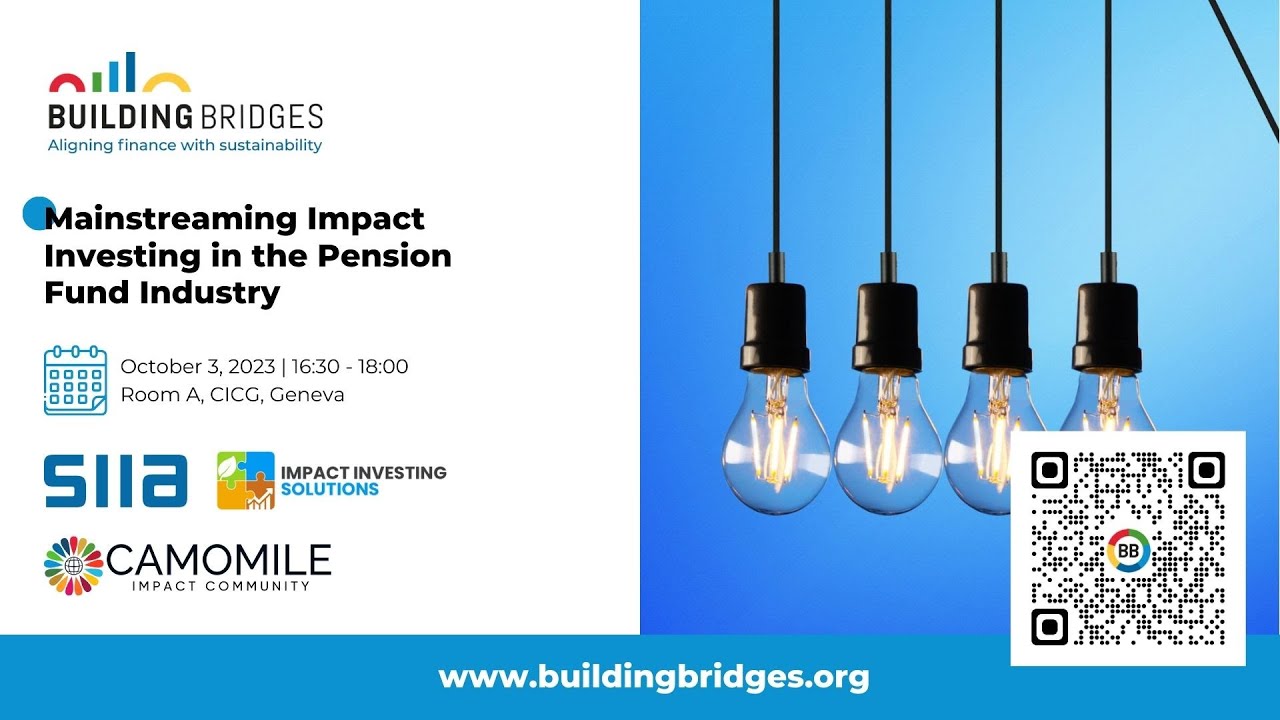 Speakers:

Ameenah Gurib-Fakim
Ambassador for the SIDS, World Diplomatic Academy; 6th President of Mauritius - Council of Women World Leaders
The 6th President of Mauritius (2015-2018), she is a distinguished figure in sustainable development. With a background in chemistry, she held a professorship at the University of Mauritius. Her academic journey includes a PhD from the University of Exeter. She is renowned for her prolific writing, with numerous books, chapters, and scientific articles to her name. She's been honored with awards such as the L'Oréal-UNESCO Prize for Women in Science and the African Union Commission Award for Women in Science. Her presence at our event on October 3, 2023, adds profound insights to discussions on impact investing and pension funds.

Oguche Agudah
CEO - Pension Fund Operators Association of Nigeria
Oguche Agudah is CEO of the Pension Fund Operators Association of Nigeria (PenOp). His leadership guides Nigeria's $30 billion pension industry towards positive national development. With a background including roles at Standard Chartered Bank and OurCrowd, he possesses a wealth of experience in the financial sector. He's a Fellow of both the Chartered Institute of Bankers, Nigeria, and the Chartered Institute of Stockbrokers, Nigeria. His recent nomination to the Nigerian National Advisory board (NAB) for Impact Investments underscores his commitment to driving sustainable change. Oguche Agudah's insights and experience will enrich our event discussions on impact investing and pension funds.

Seamus Finn O.M.I.
Chief of Faith Consistent Investing - Oblate International Pastoral (OIP) Investment Trust
Seamus Finn, OMI, serves as the Partnership Spiritual Director, leading efforts to enhance spiritual enrichment and promote the understanding of Oblate identity and mission for Partners, friends, and affiliated institutions. He holds the role of Chief of Faith Consistent Investing for the OIP Investment Trust. He remains a consultant to the Justice Peace and Integrity of Creation office within his congregation. An internationally recognized figure in faith consistent and socially responsible investing, he has actively participated in Vatican-sponsored events on responsible investing and corporate social responsibility. As Chair of the Board of ICCR, he engages corporations in various important matters.

Cathie Wood
CEO and CIO - ARK Investment Management LLC
Cathie Wood, with over 40 years of investment experience, founded ARK Investment Management LLC in 2014, focusing exclusively on disruptive innovation. As Chief Investment Officer and Portfolio Manager, she developed ARK's investment philosophy, exploring large-scale investment opportunities driven by technological innovations like DNA sequencing, robotics, artificial intelligence, energy storage, and blockchain technology. Cathie's exceptional contributions led to her inclusion in Bloomberg's prestigious Bloomberg 50 list in 2018 and Fortune's exclusive roundtable of experts. She's received the "Women in Finance – Outstanding Contribution Award" and has shared her insights at prominent events, including World Economic Forum and Singularity University's Exponential Finance.

Grégoire Haenni
CIO - the Pension Fund of the State of Geneva (CPEG)
Grégoire Haenni serves as the CIO of the CPEG since 2014, overseeing substantial transformations in asset allocation and risk management. Previously, he held the position of CIO for the pension fund of CERN, where his innovative capital preservation strategy became the "CERN investment model." His extensive career includes leadership roles at institutions like Bank of China (Switzerland) Fund Management SA and the Bedrock Alternative Asset Management SA. Grégoire also notably contributed to fight against climate change as Vice Chairman of the Institutional Investors Group on Climate Change (IIGCC) committee. He holds Ph.D. in mathematical statistics from the University of Geneva.
Morten Elkjaer
Vice President for Financial Sector and Business Development - IFU Denmark
Investing for SDG impact and commercial return in emerging markets, developing countries. Focus on financial intermediaries with a strategy to promote access for finance for micro and small enterprises, and financial inclusion; fund investments; larger public good infrastructure projects (blending private and public finance). Work on developing new instruments that promote SDG impact through the market including countries/markets in fragile situations, gender equality, micro and small enterprises.

Esther Badiola
Senior Climate Adviser - European Investment Bank
She is Senior Climate Adviser at the Operations Climate Office of the EIB. Before joining the Climate Office, Esther spent three years in the Bank's Washington DC Office in charge of outreach and partnerships and prior to that, she worked as Senior Expert at the Bank's technical and projects directorate for over 15 years, in the appraisal of investment projects in network industries (telecommunications, energy, and others). Her area of expertise is climate change. In 2015, she lead the first EIB Climate Strategy and the design of its action and implementation plans.

Archiduc Imre de Habsbourg-Lorraine
Founding Partner, CEO - Aliter Invest
L'archiduc Imre est le fondateur d'Aliter Invest, une société spécialisée dans les fonds de placement éthiques à dimension chrétienne. Il est actuellement président de la Fraternité européenne, un réseau rassemblant des Chrétiens de toute l'Europe qui promeut une Europe unie et fraternelle. Il se décrit comme un européen passionné et engagé, souhaitant contribuer à ce que l'Europe redécouvre son identité philosophique, culturelle et spirituelle.