Panel
Livestream
Creating Framework Conditions for Sustainable Investment
Other
Transparency & Accountability
While European legislation has demonstrated that regulation can encourage sustainable practices and reduce greenwashing, it has also led to a decrease in innovation. This panel will identify ways to create framework conditions that foster innovation, and look into where we need regulation and where incentives would work more effectively.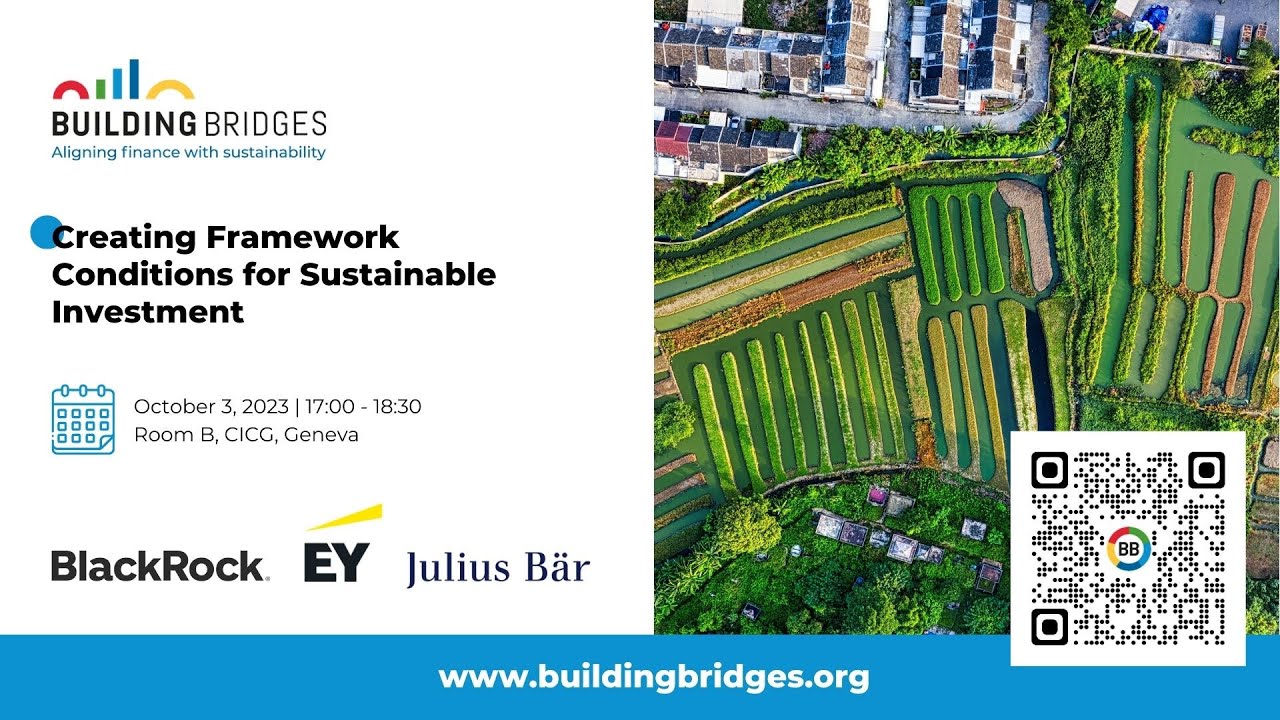 Speakers:

Mirjam Staub-Bisang
Chief Executive Officer - BlackRock Switzerland
Mirjam Staub-Bisang is Chief Executive Officer of BlackRock Switzerland and a member of the EMEA Executive Committee as well as a Senior Advisor to BlackRock Sustainable Investing. Prior to BlackRock, Dr. Staub-Bisang led an investment management firm focusing on sustainable investing based in Zurich. She also served as a non-executive director on the boards of public and private companies and as chair the investment committees of several asset owners such as pension funds and endowments. Prior to these roles she held senior positions in asset management and private equity investing at Commerzbank and Swiss Life and worked in investment banking at Merrill Lynch in London and Zurich. Today, Dr. Staub-Bisang serves on the board of the global shoe retailer Bata as a non-executive director. She holds a PhD in Law from the University of Zurich and an MBA from INSEAD.

Gill Lofts
Financial Services Sustainable Finance Leader - EY
Gill Lofts is the EY Global Sustainable Finance Leader. She is responsible for the development and delivery of sustainable finance services across strategy, products and services, risk and regulation, and reporting data to help clients create business value from sustainability and accelerate their transition to a low carbon future. Ms. Lofts is passionate about making progress on the sustainable finance agenda and has been part of the Embankment Project for Inclusive Capitalism for the past five years. She sits on the IIF Sustainability Finance Working Group and leads the Sustainable Finance knowledge partnership with the European Banking Federation. She has over 25 years' experience in the wealth and asset management sector, both as a professional advisor and as an industry practitioner. She previously led the EY Wealth & Asset Management business in the UK. Ms. Lofts has been involved in the UK government's Investment Management Strategy since 2013 and sits on the Investment Association Advisory Board.

Dawid Bastiat-Jarosz
Director of Sustainable Finance Education Programs - Graduate Institute Geneva
Dawid Bastiat is the Director of Sustainable Finance Education Programs, Graduate Institute Geneva. He is an EU affairs specialist who partners with energy companies to help them manage the transition to a sustainable enterprise. He has been nominated to serve as a member of the
European Commission's Platform on Sustainable Finance
 and he is also is the Co-Director of the
Master of Advanced Studies (MAS) in Sustainable Finance and Development
at the Geneva Graduate Institute. Mr. Bastiat spent a decade working in managerial and executive roles, in the field of development finance and regional development for public and non-governmental organizations.

Christoph Baumann
Envoy of the State Secretary for Sustainable Finance - State Secretariat for International Finance
Christoph Baumann is Deputy Head Strategy Division & Envoy for Sustainable Finance at the State Secretariat for International Finance (SIF). In this role, he leads the Swiss government's sustainable finance activities, ranging from negotiations in multilateral bodies (such as the G20) to domestic initiatives. He is a Fellow at the University of Cambridge Institute for Sustainability Leadership and a WEF Young Global Leader.
Mr. Baumann holds an LLM in international law from the University of London, a master's degree in economics from the University of Zurich, and is a CFA charterholder.
Melissa Perez
Head of Sales and Business Development - Carbon4 Finance
Melissa Perez joined Carbon4 Finance in 2021 as Head of Sales and Business Development. She has a solid background in the financial industry, having worked for renowned banks such as Bank of France, Credit Mutuel Arkea, Société Générale, Morgan Stanley, and BNP Paribas. In her last role in BNPP, she was in charge of developing the sustainability loan offer in the Emerging Markets. Aside from her professional life, she is a board member of The Shifters, an association gathering more than 12,000 volunteers in Europe that support the Shift Project, a think tank whose mission is to decarbonize the economy. As Head of the Project Department, she creates and coordinates an infrastructure to support hundreds of projects from volunteers.

Gerbrich Wagenaar
ESG Methodology & Product Manager - Julius Baer
In her current role, Gerbrich Wagenaar is responsible for developing and implementing ESG methodologies, frameworks, and tools for Julius Baer's investment products and services. She also provides guidance and support to the business units and stakeholders on ESG-related topics, such as ESG risk management and sustainable finance regulation (SFDR, the EU Taxonomy, MiFID II etc.).