Panel
Livestream
Innovative Financing for Entrepreneurial Solutions in Emerging Markets
Emerging Markets & Impact Investing
Innovative Finance
With a $50 billion financing gap faced by impact enterprises in emerging markets, this session will focus on Impact-Linked Finance (ILF), as an innovative financing solution that links financial rewards to environmental and social outcomes for market-based organizations. By bringing together various stakeholders, the discussion aims to foster a holistic understanding of ILF and explore its opportunities to scale.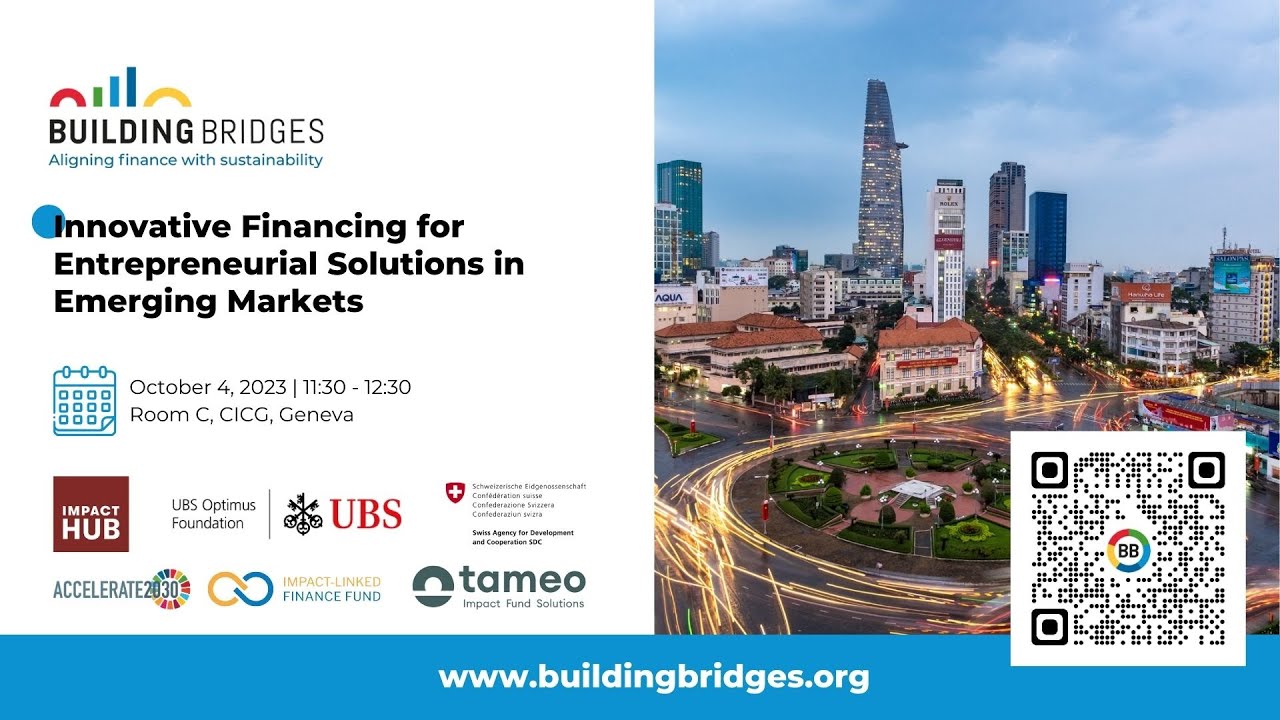 Speakers:

Mathieu Saint-Cyr
CEO - Tameo
Experienced executive leader with extensive background in investment management, regulatory compliance, and sustainable investing. Committed to aligning business strategy with ESG goals, developing impact investment strategies, and managing complex global operations. Proven ability to design and implement frameworks that meet external sustainability standards and certifications. Holds two MSc degrees in Mathematics and a certificate in ESG Investing from the CFA Institute.

Peter Beez
Senior Policy Advisor - Swiss Agency for Development and Cooperation
Dr. Peter Beez is Senior Policy Advisor at the Swiss Agency for Development and Cooperation (SDC) since 2002. His work for this organization aims to drive inclusive economic development through innovative and impact-linked finance as well as promoting social and impact entrepreneurship. Before starting at SDC, Peter has worked in both the public (University of Fribourg, Swiss Federal Finance Administration) and private sector (bank, consultancy, SMEs).

Karen Wilson moderator

,
Chair of the Supervisory Board - Impact-Linked Finance Fund
Karen is an expert on sustainable finance, ESG, impact investment and impact measurement, bridging the private, public and academic sectors. In addition to leading work at the OECD, she co-led the launch of the Impact Management Platform, which aims to provide coherence on sustainability standards for companies and investors. She is Chair of the Supervisory Board of the Impact Linked Finance Fund and serves on the Pictet Group Impact and Sustainability Advisory Board in addition to other boards. In 2022, she was selected by the Sorenson Impact Center as a Global Impact Leader.
Michael Rieser
Associate Director - UBS Optimus Foundation
Michael is a Program Manager in the Social Finance team of the UBS Optimus Foundation. He focuses on investments into social enterprises, outcome-based financing, and blended finance linked to nature-based solutions, education and health, including structuring impact-linked investments. Prior to joining UBS Optimus Foundation, Michael designed and built social agribusinesses for an arm of the Clinton Foundation (now called Acceso) in West Africa, Southeast Asia, and New York. Prior to this, Michael worked in academics. He has a Bachelor's degree in economics from the University of Basel and a Master's degree in economics from the Barcelona Graduate School of Economics.

Brian Milder
Founder & CEO - Aceli Africa
Brian Milder is Founder & CEO of Aceli Africa, a market incentive facility that mobilizes private sector lending for agricultural small- and medium-enterprises in Africa. Aceli aims to catalyze $1B+ in lending and improve livelihoods for over 2M smallholder farmers and workers by 2028. Previously, he was Chief Innovation Officer at Root Capital, an impact investor focused on agricultural finance in Africa and Latin America. He also co-founded and served as Director of the Council on Smallholder Agricultural Finance (CSAF), an alliance of 20 impact lenders that promote industry standards and best practices for agricultural SME lending globally.