Back
Disclosing Climate: From International Sustainability Standards to the Swiss Climate Scores
The transition to a low-carbon economy requires a common language under which corporates and financial institutions communicate and disclose climate-related issues. As companies engage on climate-aligned strategies, the need for standardization and comparability fostering decision-making becomes critical. This event sheds lights on the emergence of international sustainability standards and how they translate into Swiss initiatives and the Swiss Climate Scores.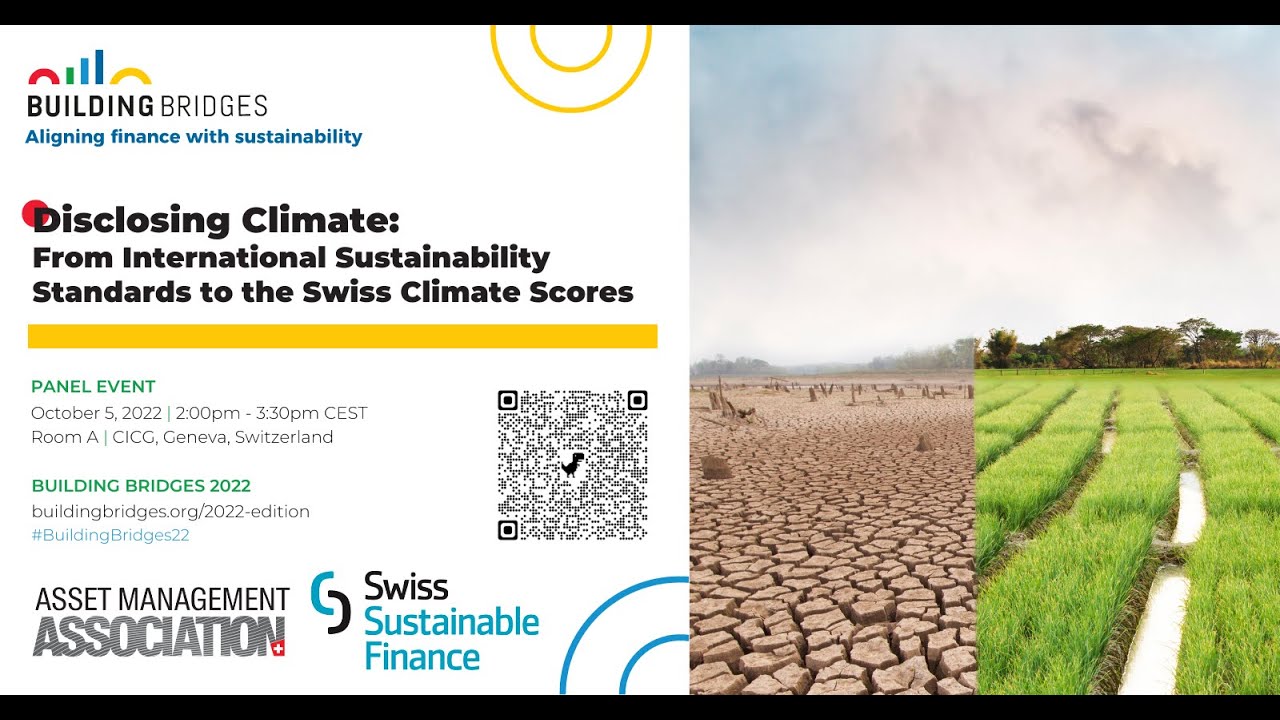 Speakers:

Daniela Stoffel
State Secretary for International Finance - Federal Department of Finance
Daniela Stoffel took up her role as State Secretary for International Finance at the Federal Department of Finance (FDF) in March 2019. Ms. Stoffel entered the diplomatic service of the Federal Department of Foreign Affairs (FDFA) in 1998 where she held several roles including Head of Public Relations and Culture at the Swiss Embassy in Washington D.C., Head of Economic and Financial Affairs, and Deputy Head of Mission at the Swiss Embassy in Berlin. In 2015, she assumed a staff function in the General Secretariat of the OECD in Paris. From 2015, Ms. Stoffel was on detachment to SIF with the title of Ambassador, latterly as Head of Political Staff. From 2016, she was also the Diplomatic Advisor to the Head of the Federal Department of Finance (FDF). In these functions, she was involved in safeguarding and dealing with current financial policy issues and challenges and in the corresponding international negotiations and contacts. Ms. Stoffel graduated from the University of Zurich with a degree in Philosophy, Economics and German Linguistics.

Margarita Pirovska
Global Director of Policy, UN Principles for Responsible Investment

Hortense Bioy
Global Director of Sustainability Research, Morningstar

Christoph Baumann
Envoy of the State Secretary for Sustainable Finance - State Secretariat for International Finance
Christoph Baumann is Deputy Head Strategy Division & Envoy for Sustainable Finance at the State Secretariat for International Finance (SIF). In this role, he leads the Swiss government's sustainable finance activities, ranging from negotiations in multilateral bodies (such as the G20) to domestic initiatives. He is a Fellow at the University of Cambridge Institute for Sustainability Leadership and a WEF Young Global Leader.
Mr. Baumann holds an LLM in international law from the University of London, a master's degree in economics from the University of Zurich, and is a CFA charterholder.

Philippe Le Gall
Senior Engagement Specialist, Pictet
Ruben Feldman Panelist

,
Dep. Head of ESG Strategy & Business Development, Zürcher Kantonalbank Asset Management
Ruben Feldman joined ZKB in 2020, to support Asset Management's efforts in integrating sustainability into its full product range (Swisscanto Funds). Mr. Feldman is, among other things, responsible for the implementation of the climate strategy and has a long track record in sustainable finance. He holds a math degree from Trinity College and a Masters in Financial Engineering from UC Berkeley. 
Adrian Schatzmann
CEO - Asset Management Association Switzerland (AMAS)
Adrian Schatzmann is the CEO of Asset Management Association Switzerland since January 2021. Additionally, he founded in 2016 Clear Minds Investment AG, a financial advisor company, and assumes today the role of Managing Partner. He also sits since 2016 on the Board of Directors as Managing Director at Straub-Egloff Immobilien AG. From 2017 to 2020, Adrian assumed two other roles, one at DIventures Management GmbH as Member of the Investment Committee and the other at SwissBanking as Strategic Advisor. Prior to this, Adrian spent 6 years at SBC Brinson and 15 years within UBS Wealth Management.

Sabine Döbeli
CEO - Swiss Sustainable Finance (SSF)
Sabine Döbeli has worked in the field of sustainable finance for over 25 years in different roles. After establishing Swiss Sustainable Finance (SSF), she took over the role as CEO of SSF in 2014. Previously, she was Head of Corporate Sustainability Management at Vontobel where she was responsible for coordinating sustainability topics at group level and for preparing sustainable investment services. At Zürcher Kantonalbank she built up the sustainability research unit within the financial analysis department and was involved in the launch of various sustainable investment products.

Aurélia Fäh
Senior Sustainability Expert - Asset Management Association Switzerland (AMAS)
Aurélia Fäh is an investment professional with over 10 years of experience in sustainable finance. She currently is responsible for sustainable finance topics at AMAS. Aurelia started her career at the IFC where she executed debt and equity transactions in banks, fintechs, and insurance companies across Sub-Saharan Africa and Latin America, successively based in Johannesburg, Abidjan, Dakar and Washington DC. After 7 years working abroad, she developed a Swiss-based start-up providing credit to SMEs in emerging countries. Aurelia holds a Master in Finance and a Master in International Affairs from the University of St. Gallen and from Sciences Po Paris.
Event organized by