Case Study
Panel
Presentation
Livestream
BlueImpact: Driving Capital to Blue SMEs
Biodiversity
Emerging Markets
Impact
BlueImpact is a new finance initiative for enterprises raising <$10M with positive impacts in the blue economy of developing countries. Ocean Assets Group manages BlueImpact with the support of UNDP, UNEP and Asian Development Bank (ADB) for Phase1: Asia-Pacific. Registration for projects, investors and experts is welcome through our website: oceanassets.org/blueimpact.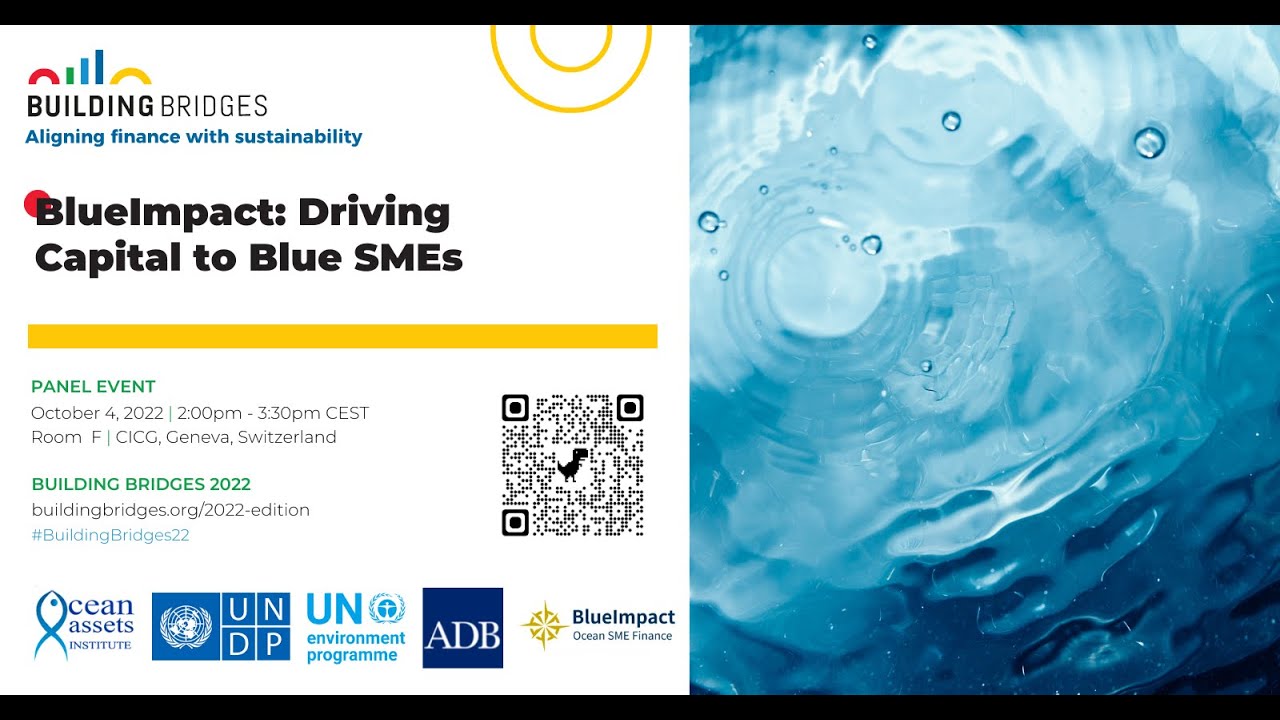 Speakers:

Muhammad Fauzal Rizki
CEO and Co-founder, Sampangan Indonesia
Muhammad Fauzal Rizki is the CEO and co-founder of Sampangan, an Indonesia-based circular technology company that converts waste into sustainable materials for different industries applications. Muhammad Fauzal Rizki is now on a mission to build a world where all waste is converted back into value and accelerate the shift towards circular economy.

Lisa Boulton
ESG Manager and Seaweed Leader, Nestlé
Experienced Project, Program, and Portfolio Manager with 20 years of experience in large global SAP implementations, within a range of companies and consulting firms. More recently, switched from SAP development and Project Management roles to Portfolio management (financial, resource, risk management, and strategic alignment). Working to align Portfolio with Sustainability.

Febriadi Pratama
CEO and Co-founder, Gringgo
Febriadi Pratama has over 10 years of experience in crafting innovative solutions using different technologies and applications. He holds a bachelor's degree in interior design from ITB and a Master's Degree in Public Policy from SGPP.

Fred Puckle Hobbs
COO, Sea Green
Experienced business and operations manager, specialised in solutions implementation, complex project delivery, and management of high-risk processes. Keen focus on strategy, operational excellence, and optimised delivery, achieved through lean management and logical problem-solving. Interests include sustainable change, digital disintermediation, and financial inclusion. International experience in Southeast Asia, Europe, and MENA.

Alexis Lebel
Project Origination & Structuring Specialist, ASEAN Catalytic Green Finance Facility, ADB
Alexis Lebel has 20 years of experience as a manager in microfinance institutions and as a consultant in financial inclusion, agricultural finance, and sustainable commodities. Since 2021, he has been working for the ASEAN Catalytic Green Finance Facility, managed by ADB, on project origination and special initiatives.

Dr. Michael Adams
President - Ocean Assets Institute
Michael founded OAI in 2015 after a 30-year career in investment banking and a lifelong passion for the ocean. Michael previously founded The Journal of Investing and Pedigree Investments​, raising capital for innovative companies and funds worldwide. For OAI, he leads investor engagement, maritime industry & science partnerships.

Joan Fulton draws on her 30-year career in international banking & corporate finance, with management roles for UBS, Union Bancaire Privé, JP Morgan Chase and BBVA Group. She leads pipeline development, investment readiness & sponsor relations. Joan has been Adjunct Professor of Management at Universities in Madrid and Geneva since 2013.

Pierre Bardoux-Chesneau
Head of Nature Assets & Global Fund for Coral Reefs, UNCDF- Global Fund for Coral Reefs
Pierre Bardoux-Chesneau, current Head of GFCR and the Nature Assets Team at UNCDF, was Senior Portfolio Manager of the UN MPTF in charge of Climate & Environmental Trust Funds of over $2bn, designing multi-partner innovative financing instruments which brought together the United Nations, governmental institutions, development actors, and responsible private companies.