Interactive discussion
Livestream
ESG in DCF: A Not-So-Magic Formula to Price in Sustainability
The integration of sustainability in valuation is critical to scale capital flows towards sustainable transitions. This session focuses on the Sustainability In Intrinsic Valuation Framework and helps key market participants to move the needle by incorporating business and sectoral transformations in the Discounted Cash Flow (DCF) models and financing transactions.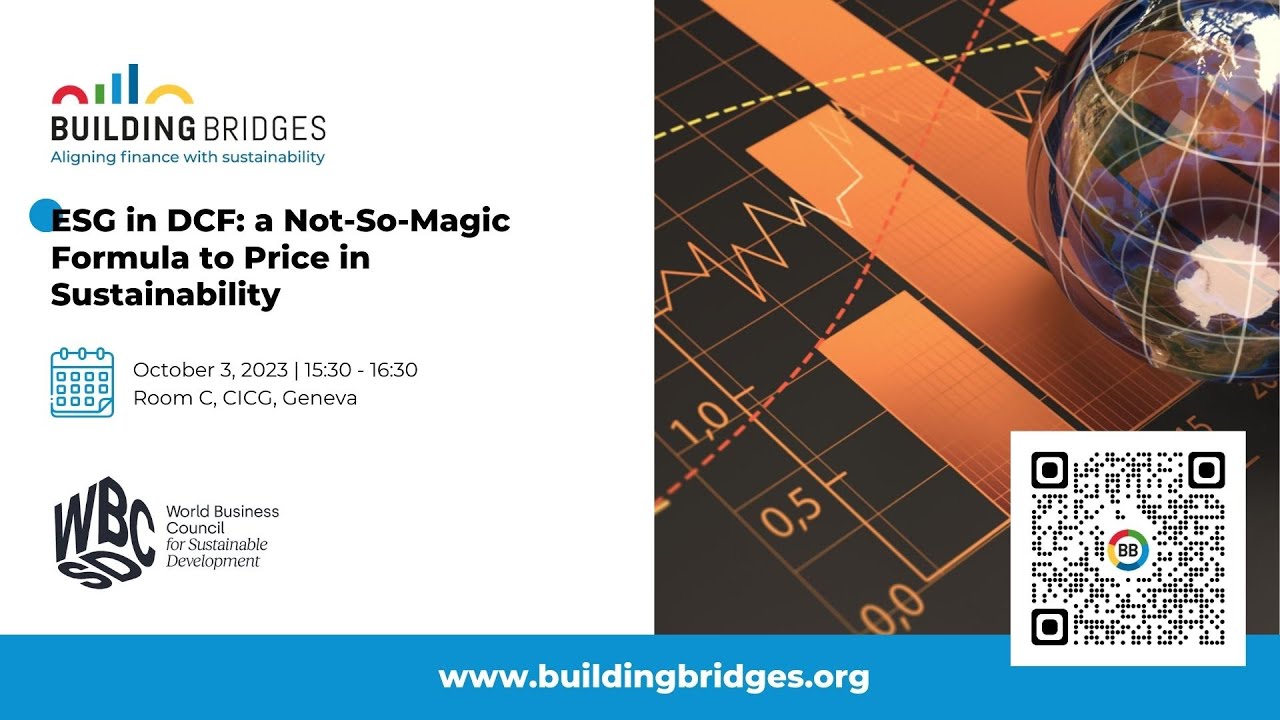 Speakers:
Andreas Kusche
Investor Relations Manager - Mercedes-Benz Group

Leila Sassi
Head of Sustainable Finance and Senior Manager Capital Markets - Holcim

Richard Manley
Chief Sustainability Officer - CPP Investments

Jean-Philippe Desmartin
Head of the Responsible Investment team - Edmond de Rothschild
Jean-Philippe Desmartin took up his position as head of our responsible investment team in 2016. He is a graduate of the Paris University II (business law and management) as well as the IEP in Paris (finance and economics). He started his career in 1993 in the financial engineering department at Crédit du Nord. From 1997 to 1999, he was a project manager at the Alpha group before moving to the extra-financial agency ARESE as head of development. In 2003, Mr. Desmartin was a director at Innovest and then in 2004 founded his own consultancy business, Desmartin Conseil. From 2005 to 2016, he was head of ESG (environment, social and governance) research at Oddo Securities. Jean-Philippe Desmartin is a member of several working groups and international committees seeking to further ESG issues (the European Federation of Financial Analysts Societies - EFFAS, the International Corporate Governance Network - ICGN, Principles for Responsible Investment - PRI, world intellectual capital initiative - WICI). Mr. Desmartin has co-written three books on responsible investments, l'Investissement Socialement Responsable (2005), ISR et Finance Responsable (2014) and the Routledge Handbook of Responsible Investment (2015). His practice was the object of a business case conducted by the Harvard Business School (HBS) in 2011. In 2016, his work was recognised as innovative by an international jury.

Fiona Watson
Senior Director, Governance and Capital - WBCSD
Fiona is currently the Senior Director in the Redefining Value team of WBCSD (World Business Council for Sustainable Development). This role leverages her Legal background and extensive international corporate experience leading on transformative agendas in the finance and business worlds, first in the aftermath of the 2008 financial crisis and more recently on the sustainability imperative. Her corporate experience includes senior positions at NatWest (2011-2020), and Amazon (2020-2023). In both roles, she initiated and delivered enterprise-wide corporate sustainability transformation initiatives. At NatWest, she was a member of the Group and subsidiary Executive Disclosure Committees , as well as the Treasury Executive Committee. Before joining NatWest (RBS) in 2011, she practiced law in New York and London in the corporate practice of Davis Polk & Wardell, having started her career in assurance and advisory at PWC in New York. She has a LLM in International Trade and Business Law (cum laude) from Fordham University and LLB in Law with German Law from University College London. WBCSD is the premier, global, CEO-led community of over 200 of the world's leading sustainable businesses working collectively to accelerate the system transformations needed for a net zero, nature positive and more equitable future.

Luke Blower
Senior Manager, Capital & Valuation - WBCSD
Luke leads efforts seeking to develop and advance corporate reporting and capital market engagement at WBCSD. He has created a range of collaborative platforms, guidance and tools on the integration of sustainability-related issues in risk management and disclosure (TCFD & TNFD) across sectors. He is now shaping the development of investor relations, valuation and finance workstreams. He is the co-author of WBCSD's Vision 2050, and various reports on performance, multi-capital accounting, disclosure and risk. He is a member of the Capitals Coalition Advisory Panel, the ISSB Technical Reference Working Group and the IFRS Sustainability Alliance Integrated Thinking & Strategy Group.