Fireside Chat
Livestream
Innovate4SDGs: Financing for Circular Start-ups in Emerging Markets
Climate & Energy
Innovative Finance
This event will focus on how to empower start-ups in emerging markets to innovate for the green and circular transition and the SDGs. This multistakeholder discussion will provide an opportunity to highlight best practices in integrating circular and green principles into financial support programmes for innovative entrepreneurship.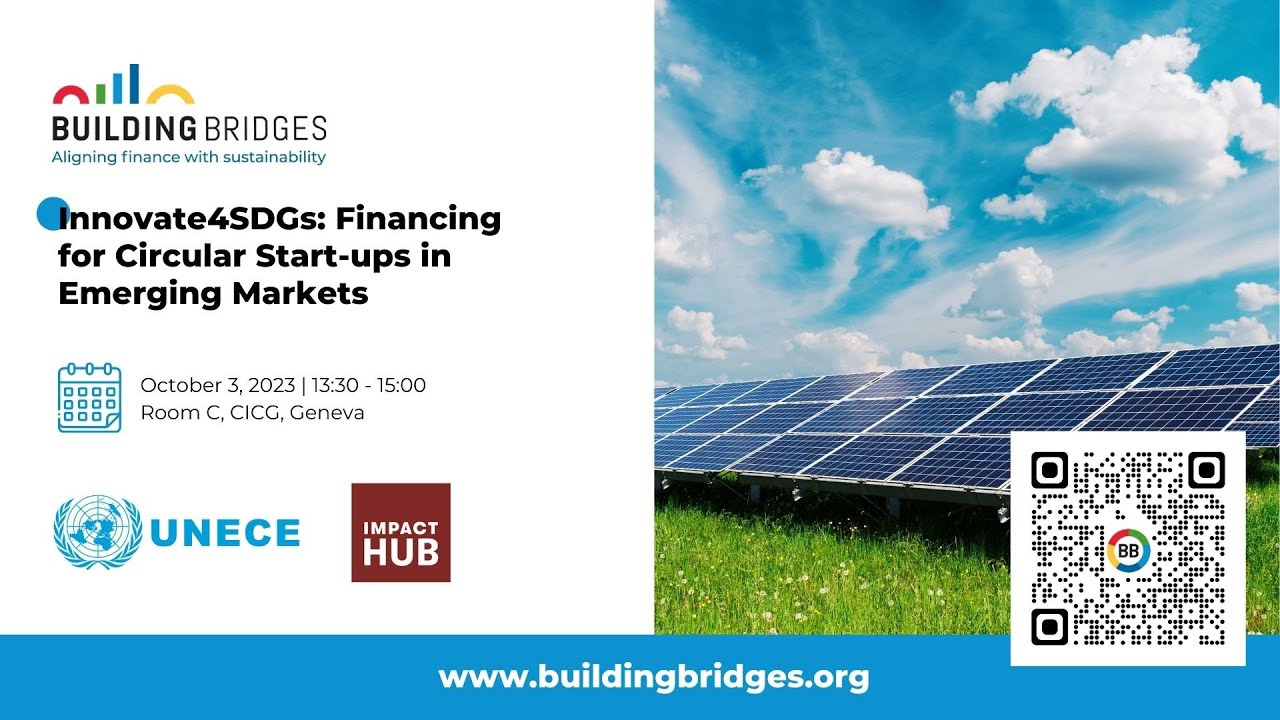 Speakers:

Dmitry Mariyasin
Deputy Executive Secretary - UNECE
Dmitry Mariyasin is Deputy Executive Secretary of the UNECE. Earlier he was Resident Representative of UNDP in Armenia, and Regional Partnership Advisor and Team Leader in UNDP's Bureau for External Relations and Advocacy covering Europe and CIS region. Mr. Mariyasin worked in the UNDP Regional Support Center in Bratislava, the Regional Bureau for Europe and the CIS in New York; and the UNDP Country Office in Moscow. He holds a PHD in Economics from Moscow State University, a Masters in Public Administration degree from New York University, as well as a degree in public administration and one in international economics.

Sharaf Sheralizodan
Ambassador Extraordinary and Plenipotentiary - Representative of the Republic of Tajikistan to the United Nations Office in Geneva
Mr. Sharaf Sheralizoda is the Ambassador Extraordinary and Plenipotentiary, Permanent Representative of the Republic of Tajikistan to the United Nations Office in Geneva. Prior to his appointment to Geneva, Mr. Sheralizoda had been serving as Deputy Minister of Foreign Affairs of Tajikistan since 2021. An economist by career, he has held leadership roles in various public offices in Tajikistan, including Head of the Secretariat of the Advisory Council for Improving the Investment Climate, Director of the Centre for Implementation of Public-Private Partnership Projects, and Leading Specialist of the Department of Demographic Statistics and Employment of the State Statistics Committee.

Avril Benchimol Dominguez
Senior Finance Specialist - Global Environment Facility
Avril Benchimol Dominguez is leading the blended finance initiative (Non-Grant Instruments) at the GEF with a portfolio of active projects above $250 million. Avril has seventeen years of experience in capital markets and structured finance in Inter-American Development Bank (IDB) and Morgan Stanley. Her main areas of expertise included capital markets and structured equity derivatives. In capital markets, she worked in the origination and structuring of equity and debt transactions such as IPOs, rights issues, and corporate bond issues. In 2011, she received her Master of Science in Foreign Service from Georgetown University, where she graduated with honors.

Felix Staehli
Co-founder - Impact Hub Geneva
By leveraging Impact Hub's global network, Felix co-founded Impact Hub Geneva and Lausanne, and co-leads the organization, that currently launches the first innovation space in Switzerland for circular and inclusive economy in Lausanne: Beaulieu Circulaire. Felix holds an M.A. in International Relations from the Geneva Graduate Institute, and serves on the executive board of Circular Economy Switzerland - Switzerland's entry point to the circular economy and movement of its actors. He also supports the SDG Lab of the United Nations Geneva Office and SHIFT Switzerland as part of their advisory boards.

Luca Etter
Senior Policy Advisor - Swiss Agency for Development and Cooperation
Luca Etter is Senior Policy Advisor and Focal Point for Private Sector Engagement at SDC. His main role is supporting SDC's operational units and management whenever they engage with the private sector and coordinate SDC's economy network. Luca has been with SDC for ten years, previously as Head of Domain in Tanzania and Program Manager for Private Sector Engagement in SDC's Multilateral Division. Before joining SDC, Luca worked for the World Bank and Social Impact, a boutique development consulting firm. Luca holds a BA in International Affairs from the University of St. Gallen (HSG) and an MPP from Georgetown University.

Elisabeth Türk
Director of the Economic Cooperation and Trade Division - UNECE
Ms.Türk is a Director of the Economic Cooperation and Trade Division at UNECE. She leads the Division's work across its four Sections, supporting closer economic relations among UNECE's 56 member States in the pursuit of SDGs and the 2030 Agenda. Prior to that, Ms.Türk acted as Chief of the Section on International Investment Agreements in UNCTAD's Division on Investment and Enterprise. Ms.Tuerk's earlier professional activities also comprise functions in UNCTAD's Division on International Trade and Commodities, the Center for International Environmental Law and the World Trade Organization.