Interactive discussion
Livestream
What's Next for Nature Markets (In an Ever More Rapidly Changing World)?
Emerging Markets & Impact Investing
Nature
Transparency & Accountability
This event will bring together different nature market stakeholders to weigh in and debate the fast-changing future of nature market governance, bringing together competing views from the financial sector, conservation communities and local community representatives.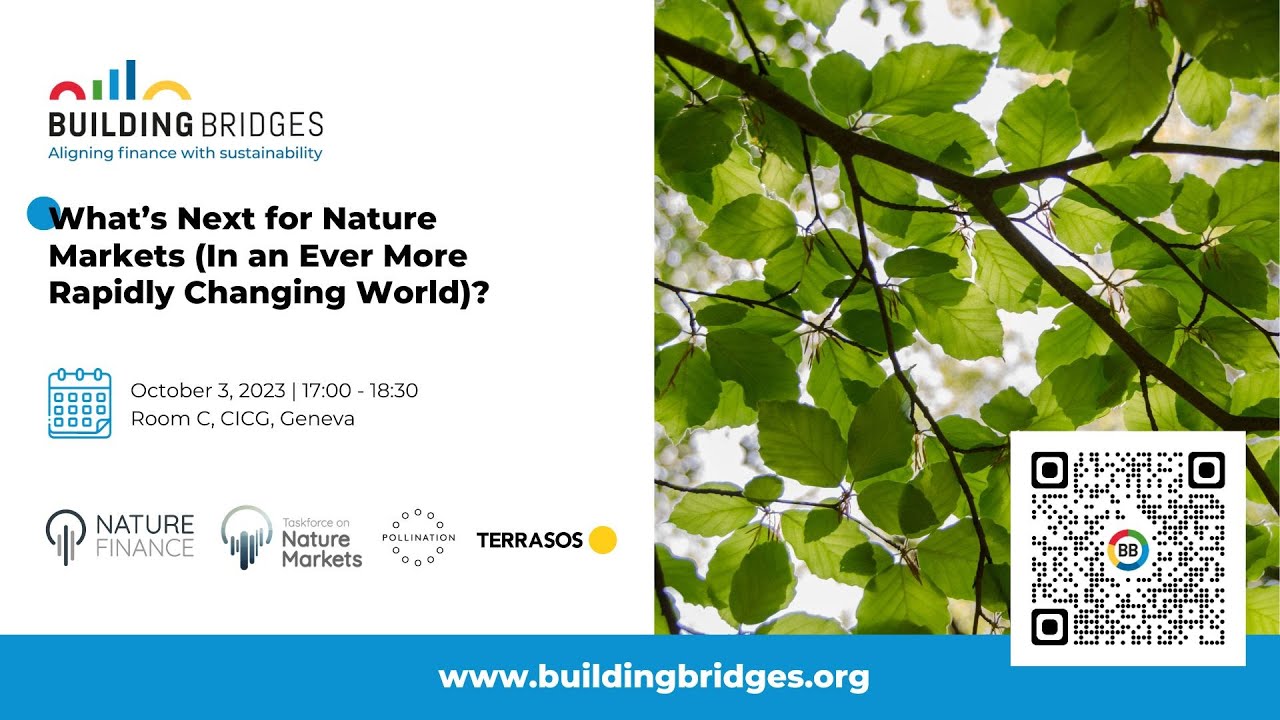 Speakers:

Mark Opel
Finance Lead - CAMPAIGN FOR NATURE
Mark is an independent conservation finance consultant. Currently serving as Finance Lead for the Campaign for Nature, which advocates for protecting at least 30% of the planet by 2030, mobilizing financial resources to ensure protected areas are effectively managed and approaching biodiversity conservation in a way that fully integrates and respects Indigenous leadership and Indigenous rights. He has led CFN's finance and resource mobilization efforts since 2018. Mark recently served as finance adviser to the Frankfurt Zoological Society, helping develop Legacy Landscapes initiative, with goal to provide long-term funding to protected areas in developing countries that achieve measurable biodiversity outcomes.
Stephanie Betts
Global Climate Execution Team - Head of Alliances, Coalitions and Reporting - AON
Stephanie Betts is a lawyer, entrepreneur, and Head of Alliances, Coalitions, and Reporting for Aon's Climate Team. Stephanie spent almost 20 years working in various positions at M&G, J.P. Morgan, and Citi Bank, and is a senior member of the Governance Committee of Women in Banking and Finance. She is passionate about promoting sustainable food systems, biodiversity, and water security
Matt Inbusch
Senior Manager, Nature & Land Use - World Business Council for Sustainable Development
Matt leads WBCSD's work at the nexus of Nature Positive and the Agri-Food system. He joined WBCSD in 2022, bringing nearly two decades of sustainability leadership including corporate ESG in the forest products manufacturing sector, USAID economic development contracting, and community development with the US Peace Corps. Matt has an MBA from Vanderbilt University and in 2022 followed his partner to relocate in Edinburgh, UK.

Alexander Barkawi
Founder & Director - Council on Economic Policies (CEP)
Alexander Barkawi is the founder and director of the Council on Economic Policies (CEP) – an international economic policy think tank for sustainability focused on fiscal, monetary and trade policy. Prior to his decision to build up CEP, he was the managing director of SAM Indexes and responsible for developing the Dow Jones Sustainability Indexes (DJSI) into a key reference point for sustainability investing. A graduate in economics (M.A.) of the University of St. Gallen, Switzerland, where he wrote his PhD thesis on "Social Change in Egypt in the 1990s.

André Hoffmann
Vice chair - Roche
André Hoffmann is a businessman, environmentalist  and a passionate advocate for business as a force for good. André is Vice Chairman of Roche Holding AG, the family business. He also sits on the Board of SystemIQ, the Board of Trustees of the World Economic Forum, and the Center for the Fourth Industrial Revolution. André has a distinguished career in nature conservation and sustainability. He is the President of Fondation Tour du Valat and board member of Capitals Coalition. He is also Chairman of the Advisory Board of the Hoffmann Global Institute in Business and Society at INSEAD.

José Pugas
Head of Responsible Investments and Engagement - JGP Asset Management
José Pugas is Partner and Head of Responsible Investments and Engagement at JGP Asset Management. He is a political scientist with over 15 years of experience in sustainability and finances, leading different projects in Brazil and LATAM. Currently, José Pugas is an active member of think tanks and international forums dedicated to discussing regenerative finances, nature-based solutions and just transition.
Julie MCCARTHY
Managing director - NatureFinance
Julie is MD at Nature Finance with 20 years of nonprofit/ philanthropic leadership experience in the areas of economic justice and financial governance. Julie served as senior advisor to chair of the WHO Council on Economics of Health for All, focused on ensuring that national and global economies and finance are advancing a healthy population and planet. From 2019-2021 Julie was the founding co-director of the Open Society Foundations' (OSF) Economic Justice Program leading an $11 million global advocacy campaign on debt and financing economic recovery in low- and middle-income countries. 2013-2019, she founded and led the OSF's Fiscal Governance Program.

Judson Berkey
Lead, Advocacy, Chief Sustainability Office - UBS
Judson Berkey is a Managing Director in the Chief Sustainability Office at UBS based in Zurich where he has worked since 2003 on global risk, regulatory and compliance topics. He currently focuses on sustainable finance policy and regulation including engagement with policymakers and standard setters. He graduated from Harvard Law School and the University of Virginia and is on the board of ECOFACT. He currently chairs the Institute of International Finance Sustainable Finance Working Group and is a member of the Taskforce for Nature-related Financial Disclosures.

Joanne Manda
Senior SDG Investment Advisor - UNDP AFRICA
Joanne is the Senior SDG Investment Advisor in UNDP Africa Finance Sector Hub (AFSH) supporting countries to accelerate investments that align with SDG goals. Prior to joining the AFSH, Joanne was the Regional Advisor: Climate Change and Innovative Finance based in UNDP Indonesia's Innovative Finance Lab (IF Lab) where she was providing technical advice on financing SDGs. Joanne is passionate about fighting climate change and generating development results by leveraging innovative financing mechanisms. Over the past eight years she supported countries in Asia Pacific to strengthen planning and budgeting systems and implement public financial reforms that incentivize climate action.
Steven Lang
Managing Director - Pollination
Steven is an experienced systems change leader with an extensive track record advising global corporates, particularly in food and consumer goods sectors, and enabling multi-stakeholder coalitions. Prior to joining Pollination, Steven was a Partner with Systemiq where he led some of the firm's most significant work in the Food and Agriculture system, and in the area of regenerative business models, including design and mobilisation of a significant multi-stakeholder action platform to scale regenerative food systems. He has also served as an advisor to various international organisations and philanthropic foundations on financing regenerative food systems, and was a Partner with EY

Mariana Sarmiento
CEO - Terrasos
Mariana is a specialist in environmental policy and strategy. She has a Master's in Environmental Policy and Management from Yale University and is a Professional in Political Science and Environmental Studies from Tulane University. He has more than 8 years of experience in the development and implementation of environmental sustainability strategies for companies, governments, and communities in Latin America and the United States.