Panel
Livestream
Breaking Barriers: Web3's Potential for Digital and Economic Inclusion
Web3 offers new pathways for digital and economic inclusion globally. Making quality web3 education more accessible is needed to enable these inclusion pathways for the workforce of today and tomorrow. This session will explore current initiatives, and future potential.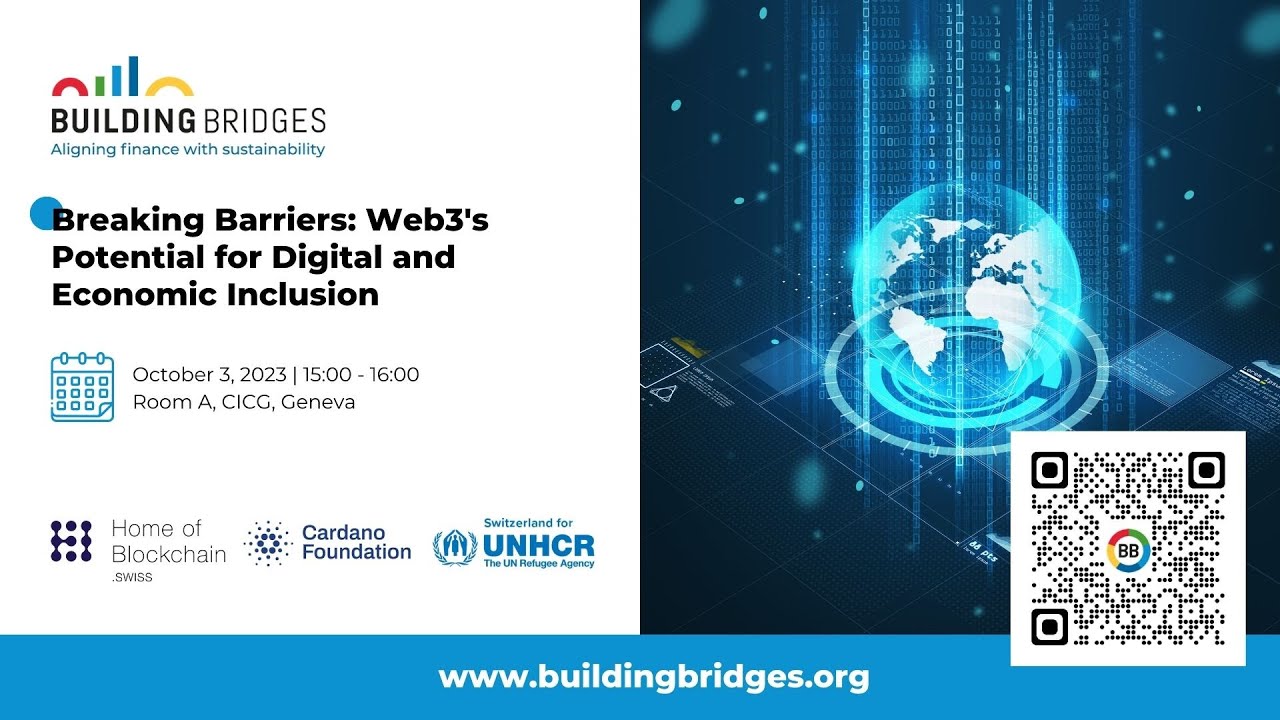 Speakers:

Omar Bawa
Co-Founder and Chief Operating Officer - Goodwall
Omar Bawa started Goodwall to leverage technology to impact society positively and is an active leader in the company's product and growth. Recognized for his social entrepreneurial pursuits, he has been named on Forbes' acclaimed 30 under 30 list. Mr. Bawa studied Law, IP, Marketing, and Product Design.

Paola Valencia
Director of Operations & Strategic Partnerships - Home of Blockchain.swiss
Paola Valencia is the director of Operations & Strategic Partnerships at Home of Blockchain.swiss. She is a seasoned entrepreneur and executive, with expertise in strategy, business development, and program implementation in complex innovation and technology projects across diverse industries. Ms. Valencia is motivated by continuous improvement, striving for solutions in business, environment, and society, for a sustainable and inclusive future.

Carmen Hett
Treasurer - UNHCR
Carmen Hett is UNHCR's Corporate Treasurer and a Corporate Finance Professional with vast expertise in devising capital structures, together with strategic resource allocation for growth initiatives and organizational strategic objectives. She has responsibility for managing globally financial resources in the delivery of humanitarian aid and inclusive financial and economic development. She is a leader in using transformational technologies, including blockchain, to deliver humanitarian assistance, manage emergency responses, and support economic inclusion and development. Her career spans more than 25 years at blue-chip companies and public sector organizations at both the director and board level.

Frederik Gregaard
Chief Executive Officer - Cardano Foundation
Frederik Gregaard is Chief Executive Officer of the Cardano Foundation, an independent, Swiss-based not-for-profit organization tasked with advancing the public digital infrastructure Cardano, while also contributing to the positive advancement of blockchain as a world-changing technology. A leader in fintech and blockchain, Mr. Gregaard has a background in banking, wealth management, and asset management.

Ahmed Amer
Chief Executive Officer - EMURGO Africa
Ahmed Amer is Chief Executive Officer of Emurgo Africa, bringing forth over 15 years of experience in financial services and developing and investing in frontier technologies. Over the last ten years, Mr. Amer attracted and directed over USD 100 million in private capital, providing high-level technical expertise to financial institutions, governments, and other stakeholders.

Florian Rais
Founder & CEO - Criptonite Asset Management
Florian started his career at Bank Pictet in Geneva and then London where he became head of the investment department. With his strong entrepreneurial mindset, Florian founded different companies and became part of numerous boards and management teams. In 2018, he founded Criptonite Asset Management, a Swiss pioneer firm focused on digital asset management, authorized by FINMA.