"A new industrial revolution, powered by millions of sustainable innovations, is essential"
– Sir David Attenborough, #COP26 World Leaders Summit.
Connect with Accelerate2030's most innovative entrepreneurs at our flagship event "Driving finance to scale entrepreneurial solutions for the SDGs" on Tuesday, 30th November and book your One-to-One meeting to explore investment and collaboration opportunities to achieve the SDGs. 
Launched out of Geneva in 2016, jointly by Impact Hub and UNDP Geneva, Accelerate2030 has become the world's largest program for scaling entrepreneurial solutions towards the SDGs, implemented across 33 countries in Africa, Asia, Latam, East Europe, supporting over 400 entrepreneurs over the past 5 years.
In this fourth edition of the program, we scouted for the most promising SDG-related entrepreneurs across 20 countries, including: Argentina, Colombia, Mexico, Venezuela, Costa Rica, Nicaragua, Nigeria, Rwanda, Zambia, Zimbabwe, Sudan, Tanzania, Côte d'Ivoire, Mali, Turkey, North Macedonia, Croatia, China, Malaysia, and Indonesia.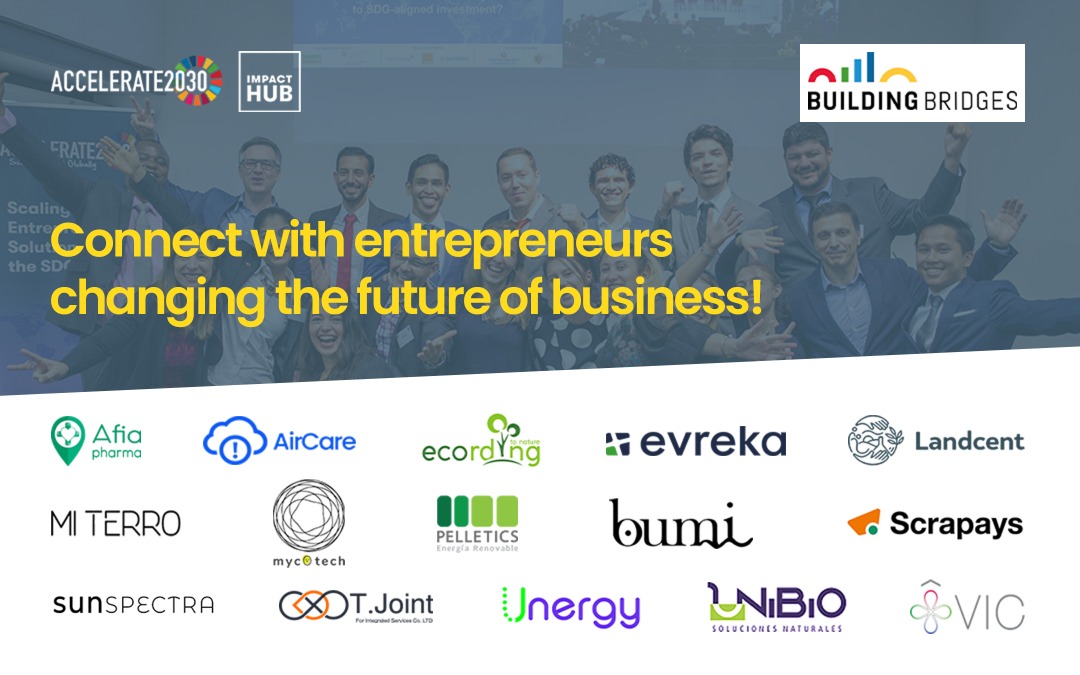 From coral reef safe sunscreen made from agricultural waste to simplified investment solutions for clean energy, the Accelerate2030 ventures create solutions for our world's most pressing challenges, drive the circular economy transition and change the future of business around the globe! 
Throughout Building Bridges Week, you have the opportunity to connect with the ventures in person. Read the entrepreneurs profiles and book a One-on-One meeting with the entrepreneurs: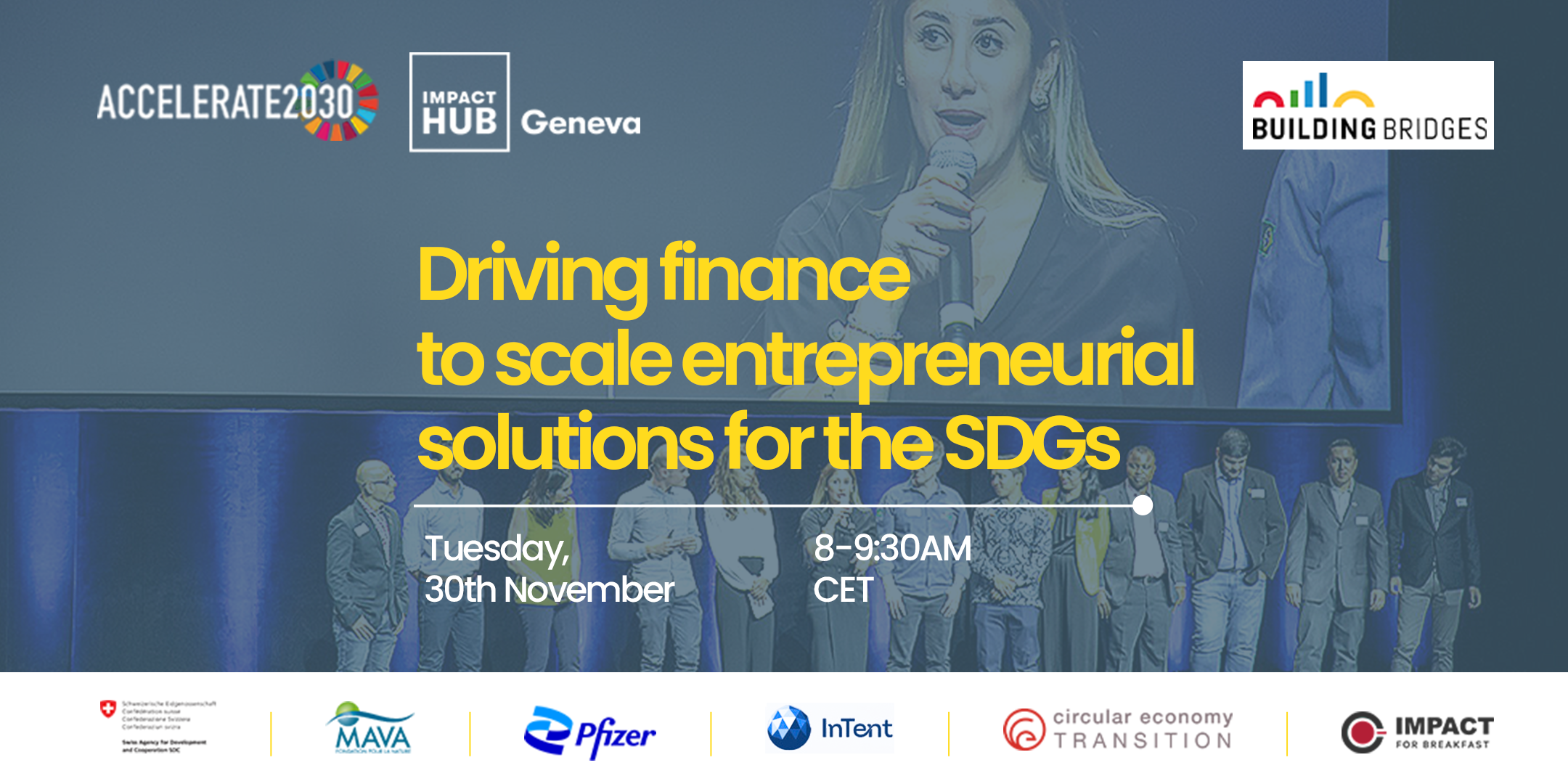 On Tuesday, 30th November, 8.00 – 9.30am, at Forum Genève – Auditorium Galata, you will have a unique opportunity to hear the Accelerate2030 entrepreneurs present their innovations and learn from leaders in the development sector, investors and program alumni about the opportunities and challenges in driving finance to scale entrepreneurial solutions for the SDGs in emerging markets. The event will be followed by a networking session and a facilitated matchmaking opportunity with the entrepreneurs.
Agenda
Welcome remarks by co-initiators of Accelerate2030: 

Agi Veres, Director, UNDP Geneva

Santu Boethius, Co-founder Impact Hub Geneva & Strategic Lead Accelerate2030 

Swiss Agency for Development and Cooperation: The importance of investing in entrepreneurship for the achieving the Sustainable Development Goals

Accelerate2030 Alumni – Scaling Success: sharing the value of International Geneva in their scaling journeys

Sibo, Costa Rica

Solubio, Brazil

Sampagnan, Indonesia

Presentations of top 15 Accelerate2030 entrepreneurs

Investor spotlight 

Networking and opportunities 
Moderated by: Ljupka Mitrinovska, Global Program Manager 
This event is brought to you in partnership with InTent and Impact for breakfast. Register to attend here.